Starry Town Bernese Mountain Dogs
Interview with Tiziana & Maurizio Mauro • Interviewed by Micol Semiglia
Published in Best in Show Summer 2015
BIS: When and how have you got involved in Bernese and why?
S.T.: The BMD has become part of our lives since 1997 with Hasso von Wattenwill then in 1998 we bought the Multi Ch. Olympia du Mas de Chabrenille who became the dog we consider the foundation of our own breeding programme. We chose the Bernese Mountain Dog because it embraces all the best qualities of a dog: trustworthy behavior, the size and obviously the beauty.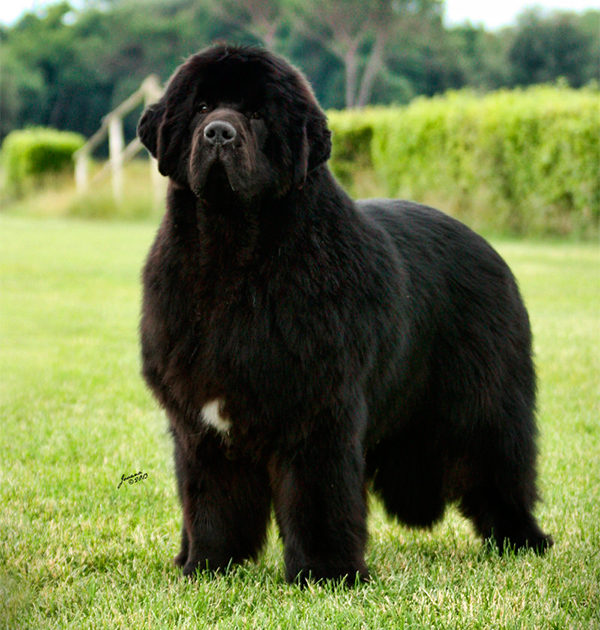 BIS: How would you describe a Bernese in one word?
S.T.: Unparalleled.
BIS: How many dogs do you have at home (living with you) and how many you co-own? How many litters approximately do you have each year?
S.T.: At home we live with 25 Bernese, 10 of them are males.Dog co-ownership does not exist in Italy, but we have several Starry Town dogs who live with trusted friends and thanks to them we can do our job with the utmost respect for the breed, uniting love and work. It's a beautiful thing when work and passion come together because passion is the difference between having a job or having a career.
BIS: Did you plan to breed professionally from the very beginning?
S.T.: We became professional breeders almost 30 years ago with Newfoundlands (with whom we have had and we continue to have huge satisfaction both in expo and in water work), while we breed the BMD since 2003 we consider ourselves emerging breeders, though we are truly satisfied with the goals achieved in recent years.
BIS: How do you recognize a prospective puppy?
S.T.: Recognizing a good puppy is not easy at all, maybe it's a little easier for the lucky ones who have the chance to have many puppies at home. All puppies are special if you choose with your heart, but for show or for breeding the right puppy definitely will be the one with the best character and the most correct from a morphology point of view.
BIS: Which traits are important for a successful show dog?
S.T.: Based on our experience, the basic quality for a show dog is the character that can be compared to the talent in a person.
BIS: With how many kennels do you co-breed and who are they ? How important has cooperation between breeders been through the years?
S.T.: We cooperate with several breeders in Europe whom we like to consider as friends and with whom we spend pleasant evenings talking about our beloved dogs. Among them we can not forget Evelyne & Roger Mansuy of des Roches du Mettey kennel (F), Bjorn & Svante of Kronblommas kennel (S), Lotta Schander of Tjofelinas kennel (S), Nada & Jadran Grubsic of Conte Veneto kennel (SLO) , Hilde & Thomas Leknes of Nellyvills kennel(N), Andrea & Cristophe Maret of Marais Champagne (CH) and Kirsi Vuori of Vuorenpeikon and Tuuli Rikama of Funatic Kennel (F), all lovely families and people with great dogs. A special thought goes to our beloved friend, unfortunately no longer with us, Danielle Porcher of Ruisseau Ensoleille Kennel (F), an excellent breeder but first of all an amazing woman, forever in our hearts.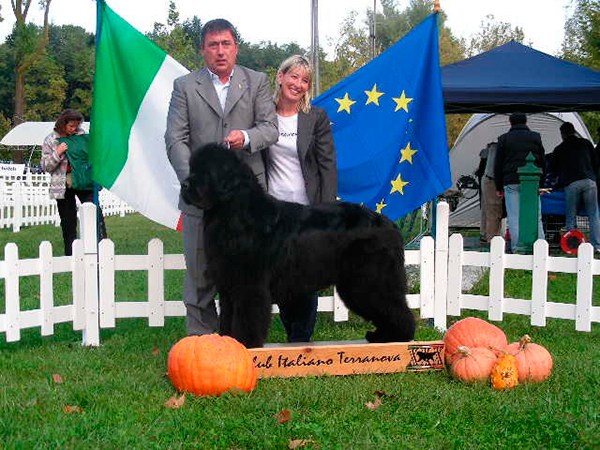 BIS: Did you have a mentor when you got started?
S.T.: A mentor no, but we always like to listen to the advice of good and experienced breeders and judges that can help us to improve our work with their knowledge.
BIS: Tell us please the main characteristic you admire in the breed?
S.T.: The main feature of the breed is for sure the character that makes the Bernese Mountain Dog unique and extremely versatile, impossible not to fall in love with him.
BIS: What are your goals in the breeding program?
S.T.: Our goals in the breeding program are first and foremost to follow the breed standard, without ever forgetting we create and sell loved ones therefore character and health must be our priorities; in fact the family is our final user and turning to her we must ensure healthy and well-rounded puppies; if they are not well marked, it doesn't matter because it is not the right color that makes a family happy.
BIS: How many lines have you used ? How many generations of your own Kennel name do you have in your pedigrees? How many dogs did you breed by now?
S.T.: We started with the Ruisseau Ensoleille bloodline and we keep on with some Swedish ones. In the pedigree of our last litter there are 8 generations of starry town dogs. We breed approximately 50 puppies a year.
BIS: Have the Bernese changed over time since you first got involved with the breed?
S.T.: In the last few years the BMD has considerably changed, it has greatly improved both the back movement and the character. However there were not only improvements, but from certain points of view the breed has lost also quality e.g. it's always good to keep in mind that the Bernese is a working dog, born to pull carts, therefore it has to have a strong skeletal structure.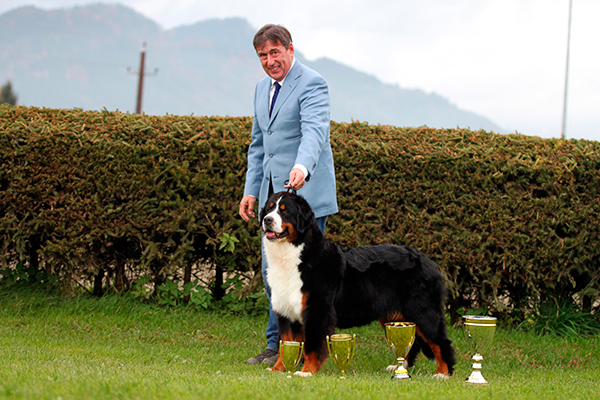 BIS: What do you consider your greatest achievement in breeding and in showing dogs?
S.T.: Our greatest success in breeding is to reach the objectives we set, for example we have improved our Bernese character in a radical way. Our greatest satisfaction in shows is that we can really enjoy ourselves in the ring now. We have bred a lot of champions all over the world, 4 junior world winners and 4 top Bernese in a row (2011-2012-2013-2014), breed winner at the EDS in Bucharest with a female bred and owned by us, some of our dogs won more than 25 championships but the greatest success is the PASSION that accompanies us day by day. Breeding is more than a sport and more than a job; breeding is pure passion and desire, which fill a lifetime. Our dogs thrill us and keep us young and positive in mind.
BIS: What success has not come yet for you, but you would be happy to reach it?
S.T.: We are not looking for success intended as notoriety, we don't sell our dogs to everyone or all over the world, like we said before Italian families are our best and favorite customers. Our real dream is to breed a Bernese who remains in history as an unforgettable stud dog; but also winning at the national specialty in U.S. with a Starry Town Bernese would be a wonderful result. The long distance has always prevented us from taking part, the many hours of flight scare us, but the U.S.A. is the country where you can participate in the most competitive and professional dog show in the world, a great challenge for all breeders and handlers, a triumph for the winner.
BIS: Please mention 2 or 3 Bernese which are not owned, bred or shown by yourself, that you particularly admired, and tell us what you most admired of them.
S.T.: In the past we admired several dogs, we saw Jenny V. Waldacker, the world winner 1994 and 4# BIS in Bern, then at the WDS in Milan 2000 Sennetta's Sixten but also Dany Vd Katzenstiegfluh, Bernerdalens Nasdaq and Ferris Von Der Holderstockhöhe. Sometimes we think nowadays we still need some important stud dogs like those.
BIS: What has been the biggest disappointment in breeding and showing for you so far?
S.T.: The greatest disappointment in breeding is the death of our dogs, regardless of the age. It's the only thing you can not ever get used to and that always leaves you an immense void. It would be fantastic if they could live a little bit more. Instead in showing our greatest disappointment is when we see that the animal welfare is not considered the most important thing not by the organizers, nor by the judges.
BIS: What qualities do you admire most in a judge of your breed?
S.T.: The quality we admire most in a judge is his deep knowledge of the breed. That's really important because a judge may influence breeding choices. Moreover, in our opinion, a good judge should never forget their love for the dogs, respect for the exhibitors who drive many kilometers and make sacrifices to receive a judgment that can improve the breed.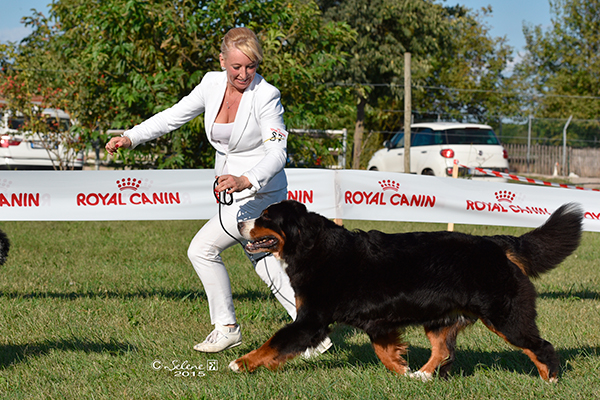 BIS: What are the most important characteristics to keep in mind for anyone wanting to become a good Bernese judge?
S.T.: In judging a Bernese a good judge must always keep in mind the functionality of the type for which the breed was selected so in addiction to a good temperament he has to prefer good bone and great movement, the key features of a working breed.
BIS: What would be the most important advice you would give to all serious young breeders?
S.T.: The advice we could give to a young breeder is: patience, passion and determination. PATIENCE because you can not have all at once; PASSION because without it, it's better you do something else in your life because a breeder works with living beings who need our love and our dedication; DETERMINATION because without a guideline there is not a destination, only a start.
BIS: What would be the most important advice you would give to all new Bernese judges?
S.T.: An important tip for the new judges is to learn from good judges. Good judges never need advice, do not forget that they are invited and paid to give us good advice. That's why they must always be competent and loyal.