Very Vigie American Cocker Spaniels
Interview with Mr. Laurent Pichard • Interviewed by Jovana Danilovic
Published in Best in Show Annual 2016
BIS: First of all I would like to thank you for taking the time to do this interview. You have bred healthy and typey American Cocker Spaniels for generations now. How did you get started with American Cockers and why?
L.P.: I just fell in love with the breed in 1972 at a dog show in England. For me they are magnificient.
BIS: Which dog do you consider the foundation of your own breeding program?
L.P.: A buff bitch that I imported from USA WW Multi Ch Kargàs Pina Colada, daughter of Ch Memoir's Billy Hilder. she has been winning a lot and has produced 8 champions.
BIS: What do you consider your greatest achievement in breeding?
L.P.: My greatest achievement as a breeder is to have been elected in 2013 Top breeder all breeds in Finland which was an unbelievable achiement and to have been the first non-Finnish breeder to receive this award in the history of the Finnish kennel club.
BIS: What do you consider your greatest achievement in showing?
L.P.: Definitely to have won in 2007 the Eukanuba World Challenge in Long Beach California with the buff Multi Ch Very Vigie Vamos à La Playa. That was an incredible success for my reputation as
a breeder. Vamos will stay in the memory of many American people as he was the first American Cocker ever to win such an event with a long tail in USA.
BIS: How many dogs do you have at home (living with you) and how many you coown? How many litters approximately you have a year?
L.P.: At the moment I have 17 American Cockers living with me in my home and I co-own many other dogs in different countries. I breed between 7 to 9 litters every year. I have a full-time person loving and caring for them, the same one for 15 years.
BIS: Please mention 2 or 3 American Cockers which are not owned, bred or shown by yourself, that you particularly admired, and tell us what you most admired about each.
L.P.: I admire many dogs that I did not breed, own or show. I´m far from being kennel blind and I believe that has been helped me a lot to built my breeding program. My first litter was born in 1974 and Multi Ch Empirés Brooklyn Dodger is one of them. I had the pleasure to judge him at my first assignement in USA. I believe that flashy black and white have had a strong influence in the breed. Frandeés Top Brass, Ch Kamp's Captain Kool and Ch Lurolàs Sarah B. Are other specimens that are still in my dreams.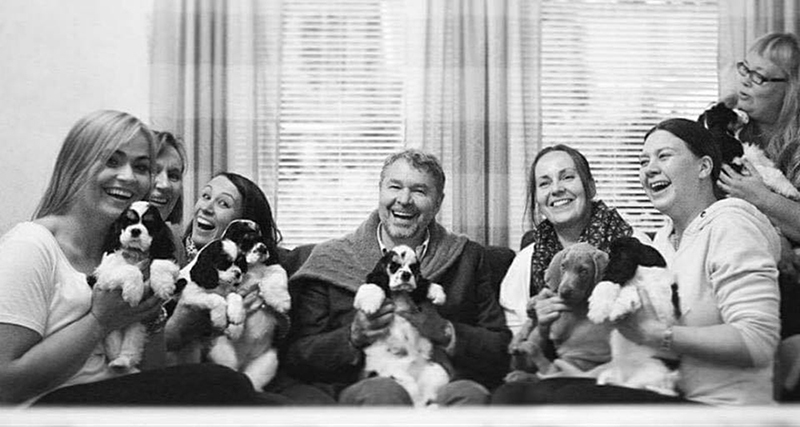 BIS: With how many kennels have you worked, and which are the kennels you cobreed with? How important was cooperation between breeders through time?
L.P.: I especially work with Sanna Vartiainen from Finland as she has the same passion than I do for the breed and we have been close partners for almost 15 years now. I believe that it is very important to be able to share the same passion with other breeder.
Very Vigie dogs have a strong influence in France, Switzerland, and Mexico. I also have had close relations with Gazon and Darkehavens kennels in USA but time is flying and these talented breeders do not breed that much nowadays.
BIS: Did you have a mentor when you got started? And do you mentor someone at the moment?
L.P.: Norman Austin has definetely been my mentor in the breed. He taught me a lot and I have been really blessed by the angels to have had such a mentor.
BIS: Tell us please the main characteristic you admire in the breed? What are your goals in the breeding program?
L.P.: Soundness, temperament and beauty are the essence of the breed. If one of these points is missing than it is not be possible to breed outstanding specimens.
BIS: How do you define "type"?
L.P.: Breed type is requested by the standard. Type is the little plus that a breeder can ad through a well-defined breeding program.I believe that I have been able to fix a type through a excellent line of line bred bitches. Very Vigie type is mostly defined by the great temperament of real showdogs, beautifull head and sloping topline. I' m also very much fixed on correct coat texture as it makes the daily care of the coat accessible to all.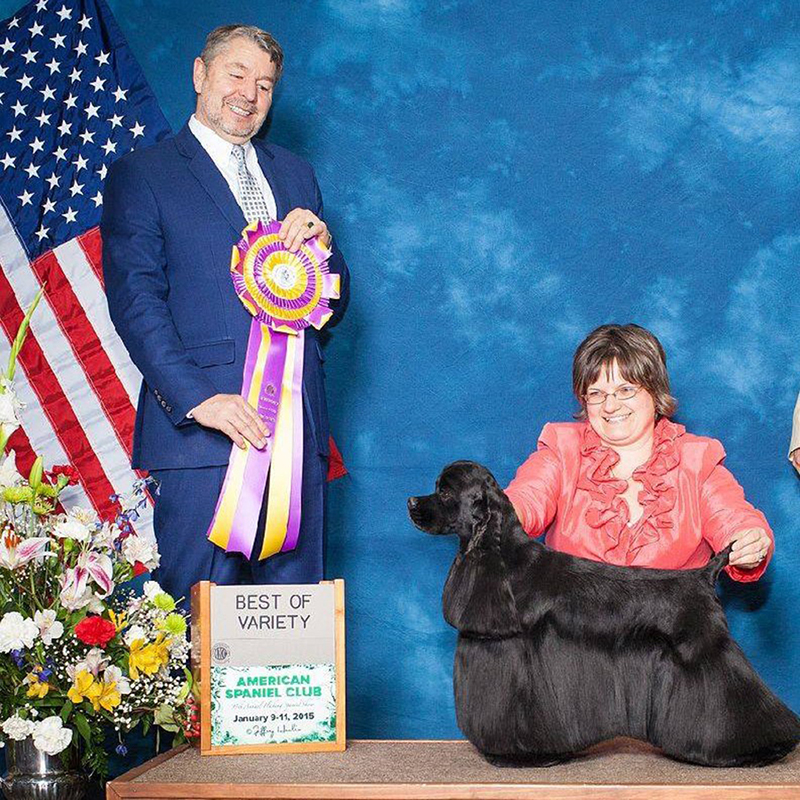 BIS: Every breed has some common problems. Which is the most common problem in your variety seen from a breeder's point of view?
L.P.: I believe that common problems in American Cockers are topline, lack of personality and specimens lacking class.
BIS: In order, name few traits you look for in the ring.
L.P.: Showmanship, character, and soundness, breed type is for me an evidence.
BIS: What, if anything, do you feel non-breeder judges get wrong about the breed?
L.P.: Mostly judges putting up oversized dogs lacking breed type. The biggest is very seldom the best. Movement of an American Cocker for sure has to be with reach and drive. Moving fast is not always a positive point if it is lacking drive. Bad front is a problem in the breed and wrong movement can show this very clearly.
BIS: If you were in charge of everything regarding the dog shows what change would you make first?
L.P.: I would promote more sportmanship and better standard knowledge from the exhibitors. Winning is important, but finishing a medium quality specimen is lacking interest. I would definetely cancel the cheap champion titles as they are not bringing anything positive to any breeds. A champion dog should be only be given to a great and beautiful dog.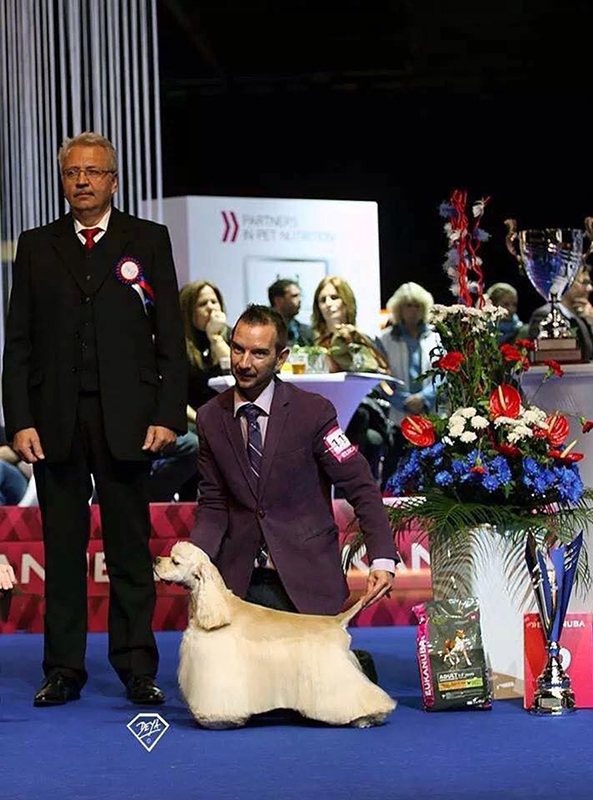 BIS: What would be the most important single piece of advice you would give to all serious young breeders?
L.P.: Be clever, look at old pedigrees and respect old breeders with studying why and what they have done for the breed. Always remember that breeding one generation of pretty dogs is great but fixing a breed Type after 8 or 10 generations is better. Do not breed with medium quality animals, or unsound ones, you'll have the back pay sooner or later. Coat is an asset in our breed but it is not everything. Movement, topline and temperament is much more important since American Cockers is a sportive breed, do not exagerate with crating or growing their coat at the cost of their freedom.