Nellsbern Bernese Mountain Dogs
Interview with Mrs. Helen Davenport-Wills • Interviewed by Micol Semiglia
Published in Best in Show Summer 2015
BIS: When and how did you get involved in dogs?
H.D.W.: I have been aware of dogs since I was a very young child and have loved them from being in my pram when the neighbor's dog walked at the side of me. My love affair with dogs started then.
BIS: Why did you chose to breed the Bernese Mountain dog?
H.D.W.: I saw the breed in November 1982 whilst traveling on a coach to a show in Scotland. I was sitting opposite to Julie Vaughan who had her homebred Carlacot Bracken with her at the time. I immediately fell in love with Bracken and after talking with Julie , I booked a puppy from Bracken's next litter. She was to be mated to a newly imported Swiss male, Jumbo vom Waldacker of Coliburn owned and imported by Brian and Jude Simonds, I did not secure a puppy from that Carlacot "E" litter but I eventually purchased from Julie a puppy whose dam was Carlacot Ebony who had been mated to Clashaidy Nordic Fire. He was Carlacot Genesis at Nellsbern. He won his third and qualifying CC making him at champion at Crufts in 1992 where he was also Best of Breed. He took me to the very top!
BIS: How would you describe a Bernese in one word?
H.D.W.: Unparalleled.
BIS: What does the breed mean to you?
H.D.W.: I could not imagine living my life without a Bernese. They are essential to my well being and so I need to share my existence with my Bernese every day of my life.
BIS: Is there a dog you consider the foundation of your own breeding programme?
H.D.W.: Yes, Redinka Rose at Nellsbern who was born in 1995 and sired by Ch Duntiblae Dark Protector ex Forgeman Folksinger. I admired the lines behind her and so she became my chosen foundation female in turn I mated her to to Ch Carlacot Genesis at Nellsbern (Ch Clashiady Nordic Fire ex Carlacot Ebony) and she produced Nellsbern Casablanca who was a great sire.
BIS: How many dogs do you have at home living with you?
H.D.W.: Three Bernese females.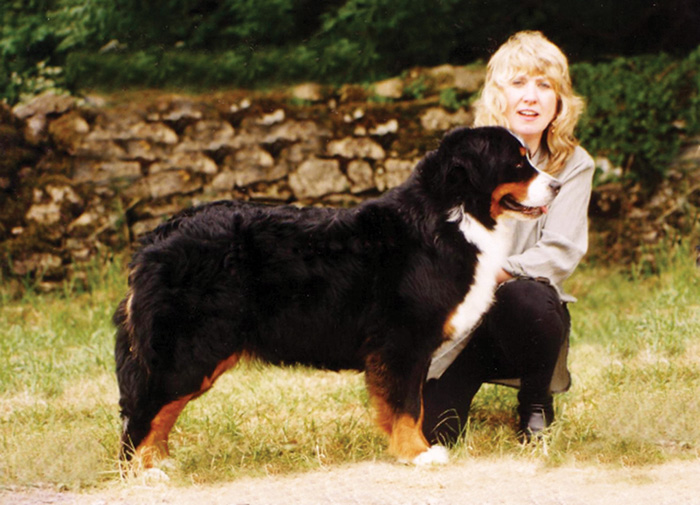 BIS: Please mention some Bernese which are not owned, bred or shown by yourself, that you particularly admire and tell us what you most admired about them.
H.D.W.: In the UK, I admired the early stock from the Forgeman kennels, especially Ch Forgeman Folksong of Tarncred and her litter brother Ch Duntiblae Forgeman Fusilier, and Folksong's daughter Ch Folkdance at Forgeman. Also the male breed record holder – Ch Carlacot Fido and the Swiss import Ch Jumbo von Nesselacker of Coliburn. From those abroad I have admired many especially Emerson van't Stokerybos who was Best of Breed under me at Crufts in 2008. Jura's Premier Vintage Quintessa and Great Lakes Danish Treasure, who were BOB and BOS respectively at the American Specialty in Denver, Colorado in 2013. The Danish male, Sennetta's Sixten was also a top exhibit and I awarded him his 2nd CC and Best of Breed to in the UK in 2001. These are just a few from so many top quality Bernese that I have had the pleasure of judging over the years both in the UK and in countries overseas from my homeland. Super dogs, with breed type, balance and movement.
BIS: Tell us please the main characteristic you admire in the breed.
H.D.W.: The strength of the breed through strong, sturdy limbs, coupled with correct Bernese temperament which is steady, calm and reliable.
BIS: What are/were your goals in the breeding program?
H.D.W.: Always to improve the quality in each generation. When looking at the female I am breeding with, I know her family history so I look at her virtues and her faults and then look for a male who not only has the attributes I am looking for in my puppies, but who, hopefully, has produced these desired traits in his progeny with other bitches.
BIS: Has the Bernese breed changed over the time since you first got involved with the breed?
H.D.W.: Yes, it has when looking at the breed in the UK today. Certainly things have changed since I first became involved in the early 1980s. There are still some quality Bernese to be seen but perhaps not so many as we used to see which is disappointing. I think all countries go through stages when their breed can be strong in quality, especially if there are prolific stud dogs around and quality females, but there are also times when breeds hit a low and the stock on the ground is not so good. Looking back it is easy tothink that times were better years ago!
BIS: What do you consider your greatest achievement in breeding/showing/judging dogs?
H.D.W.: To have won Best of Breed at Crufts in 1992 with the first male Bernese I have owned – Ch Carlacot Genesis at Nellsbern and to have won Best in Show at the main breed club in the UK The Bernese Mountain Dog Club of GB in 1998 with his grand daughter – Ch Nellsbern Elsa. The highlight of my judging career is judging Bernese at Crufts in 2008 and judging males and BIS at the BMDC of America Specialty in 2013.
BIS: What success has not come yet for you, but you would be happy to reach like breeder or judge?
H.D.W.: I consider I have been most fortunate to have had a great deal of success both in breeding and showing. In judging I have judged at the highest level in many countries all over the world. I love judging and it is a great honor to be asked to judge one's breed in whatever country one is invited.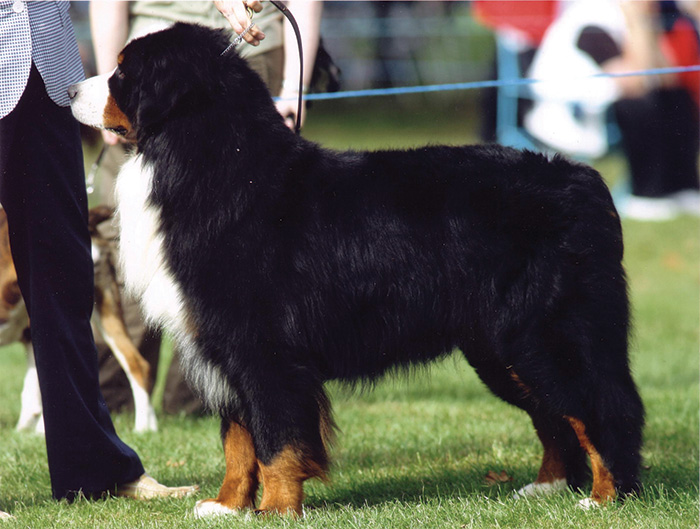 BIS: Every breed has some common problems. Which is the most common problem in the Bernese seen from a breeder's point of view? And from a judge's viewpoint?
H.D.W.: From a breeder's point of view whelping is the most difficult time, the mother could be having trouble and the vet has to be called in. The loss of puppies when they are at their most vulnerable stage in their life, ie the birthing process, is not only heartbreaking for the puppy and the mother, so too for the breeder. To see a beautifully formed puppy who has fought to live, die in your arms is soul destroying. From a judges point of view, too many people show Bernese who are not really " show quality" so they should not be taking part in shows. By that I mean that their conformation and/or movement is poor and they have no breed type; yet they might be perfectly marked and hae a steady temperament. It is best to keep them at home so they can be happy without the pressures of the show ring. When judging it is far harder to judge and assess dogs of inferior quality, than it is those of good quality.
BIS: What has been the biggest disappointment in breeding/showing/judging for you so far?
H.D.W.: That Nellsbern Casablanca did not become a champion and that his grand daughter Nellsbern Quaxie, lost a litter of puppies the day before she was due to whelp. Thankfully Quaxie survived this sad experience.
BIS: How long have you been judging this breed?
H.D.W.: In the UK I judged my first show in 1987 and awarded CCs in BMD in the UK in 1992 at Darlington Ch show. I first judged abroad in Denmark in the 1990s.
BIS: When and why did you decide to become judge of BMD?
H.D.W.: After breeding and exhibiting I was invited to judge in 1987 at a local open show – Cheshire show. I loved it and have not stopped since!
BIS: When you were just a breeder which qualities did you admire most in a judge of Bernese ? And now that you are a judge, which qualities you like most and less in a colleague?
H.D.W.: The qualities I admire most in a judge are those with honesty and integrity who have a thorough understanding of the breed, its construction, movement and origin of purpose and who make their decisions based upon their findings after getting their hands on the dogs during the individual examination and then seeing the dog both standing and moving. The breed is always uppermost in their mind and the good of the breed and not the owner/handler always first and foremost. I consider a judge who is able to judge puppies and place them in an order when they are at various stages of development, is indeed talented since this is a difficult task.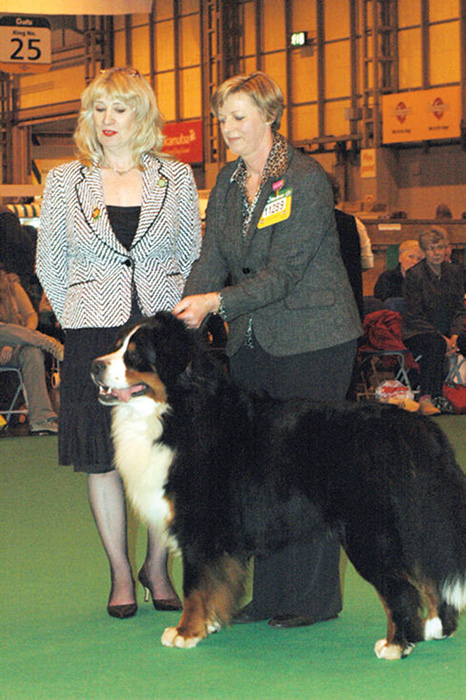 BIS: What are the most important characteristics to keep in mind for anyone wanting to become a good Bernese judge ?
H.D.W.: Be honest with yourself and know your limitations. Do not pretend to be something you are not. Do not accept appointments just because you want to judge abroad. Remember you are representing your country when you judge in a foreign land and that your actions reflect not only yourself but your country too. Make sure you know everything there is to know about construction and movement and ensure that when it comes to making decisions you are able to do so quickly and efficiently. Know yourself well and understand your own strengths and weaknesses.
BIS: Which traits are important for a successful show dog? Which are qualities you like most in a Bernese? Which are the faults you hate most in this breed?
H.D.W.: I like balance and harmony in a Bernese, a strong head in a male and a strong yet feminine head in a female, a good length of neck, excellent forehand angles and hindquarter angles and balanced brisket and middlepiece, coupled with correct tail carriage. Together the package should move correctly with the ideal profile, foot fall and balanced pace, co ordinated yet powerful. A wonderful vision when it all comes together correctly.
BIS: Where have you seen the most beautiful Berneses? In which country or in which show where you have judged or where you have been as a visitor?
H.D.W.: I have seen many excellent Bernese in so many countries I have judged in and as I said above, times change and countries have times when the breed is strong in type and movement and then there are times when this changes and the breed is not so strong.
BIS: A Bernese can't win under you if it has …. (ex. yellow eyes, curly hair, short tail, bad movement, … )
H.D.W.: I do not like to see a "gay" tail carried high over the back. I think it is untypical and it spoils the outline of the Bernese. I understand that some males carry their tails high when around other entire males, but there is a difference between a tail that is correctly set on and carried a little high to show a strong temperament and a tail that is positioned badly because the croup is incorrect. The angle of the croup dictates the set on of the tail. Poor movement is something I do not like. I can forgive a little untidyness in the front movement, but not so in the hind movement because the power of the dog (the engine of the dog) commences in the rear of the dog. The hind movement needs to be strong, sound, and powerful through the rear pastern.
BIS: Please tell me the best Bernese you have ever judged and explain me why you loved him/her so much.
H.D.W.: I think this is impossible to say because I have judged so many quality Bernese from all over the world and from different time eras and so it would be unjust of me to compare them.
BIS: Not everyone likes grooming in the Bernese. What do you think about it? Do you like groomed dogs?
H.D.W.: I think Bernese should be clean and well presented for the ring. I like them to have an outline which is natural and not with too much hair taken off so they are "sculptured". I do not like them to be dirty and untidy so a little tidying to neaten them is something I like.
BIS: What is the best thing about being a judge? And the worst thing?
H.D.W.: The best thing about being a judge is that one gets an opportunity to judge Bernese in all parts of the world. This in turn brings one into contact with other judges, breeder/exhibitors and it is a great way of making friends. We all have a common interest – a love of this wonderful breed. The worse aspect is when one has to make decisions which are difficult for example choosing between two dogs or bitches of similar quality and one has to be first and the other goes into second place. Also sometimes one sees poor specimens of Bernese which should not be in the ring and that is difficult to judge them because they have so many faults.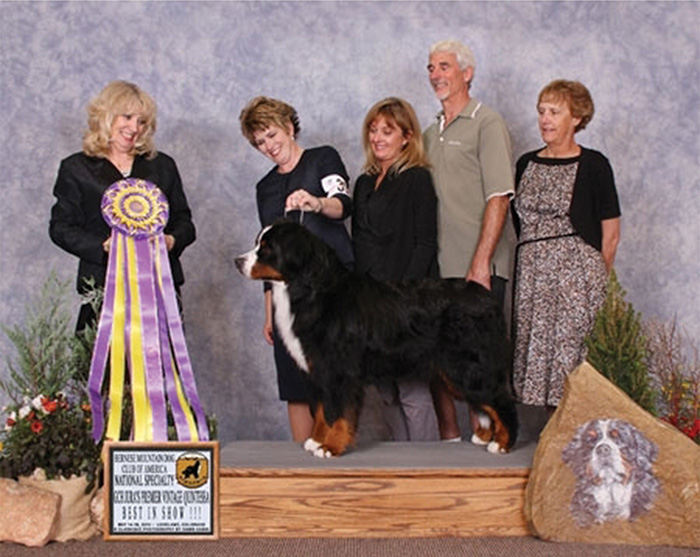 BIS: What would be the most important advice you would give to all serious young breeders?
H.D.W.: Before you purchase your foundation female, speak with lots of successful breeders and get to know the strengths and failings in bloodlines. Study canine anatomical points, understand how the breed is put together. Do not be in a hurry to breed a litter just because you have a Bernese female and make sure that when it comes to the time for her to have her puppies you know exactly what to do at all times, especially in the event of an emergency. Never compromise on quality when looking to breed your female. Understand the differences between line breeding, in breeding and out crossing. A basic knowledge of canine genetics does help!
BIS: What would be the most important advice you would give to all new Bernese judges?
H.D.W.: Study and understand the workings of the breed standard. Talk to judges in the breed who are knowledgeable and experienced. Listen to their advice. Take time to read everything you can about judging the breed and do not be in a hurry to get into the middle of the ring before you are ready. If you are not competent you should not be judging. Remember that exhibitors pay for your opinion when they enter under you, so you should make sure you honestly assess and place their dogs, whilst maintaining a professional and courteous approach. Your actions both in and out of the ring reveal so much about yourself and your knowledge of Bernese!