Marais Champagne Bernese Mountain Dogs
Interview with Andrea & Christophe Maret • Interviewed by Micol Semiglia
Published in Best in Show Summer 2015
BIS: When and how did you get involved in dogs? Why did you choose to breed Bernese Mountain Dogs?
Andrea & Christophe: When I was a child I used to spend my school holidays with my aunt. She had always had Swiss Mountain Dogs. I used to buy cans of food, dog biscuits and beautiful leads and collars for her dogs with my pocket money. The beauty and the character of this tricolor dog has always fascinated me.
BIS: How would you describe a Berner in one word? What does the breed mean to you?
Andrea & Christophe: Loyal friend.
BIS: Is there one specific dog you consider the foundation of your own breeding program?
Andrea & Christophe: I was so lucky to have been able to start my breeding with Daria von Hautzenbichl. She was a multi-champion female.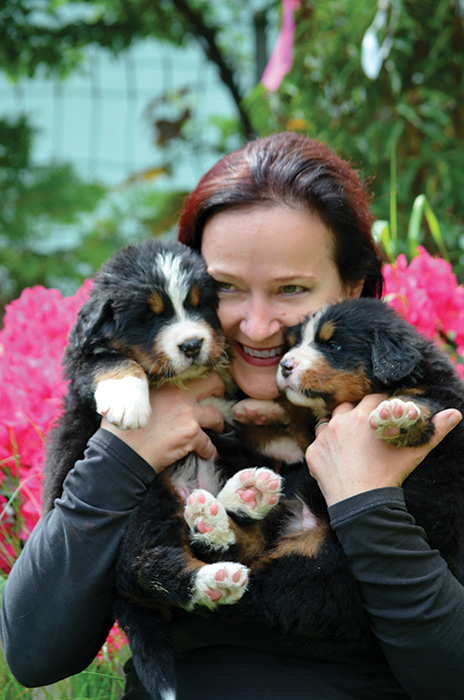 BIS: How many dogs do you have at home (living with you) and how many you co-own? Approximately how many litters do you have a year?
Andrea & Christophe: At the moment I have 4 dogs living with me and I am co-owning 4 more who are not living with me. I have about 2 or 3 litters a year.
BIS: Did you plan to breed professionally from the very beginning?
Andrea & Christophe: Right from the beginning I had the ambition to breed beautiful and of course healthy dogs. I was never interested in just increasing the number of Berners in the world. Whether a breeder is professional or not, does not depend on the number of litters they have, but on the quality of the dogs they use in breeding and the quality of the puppies they are producing. A professional breeder is trying to improve the breed in health and in structure. Some breeders have a lot of litters and others have a litter only occasionally but if all of them are only "pet quality" these people are not breeding professionally.
BIS:How do you recognize a puppy which is a show prospect?
Andrea & Christophe: You can already see type in a pup. It hardly ever happens that a puppy that is not very promising ends up being really great dog.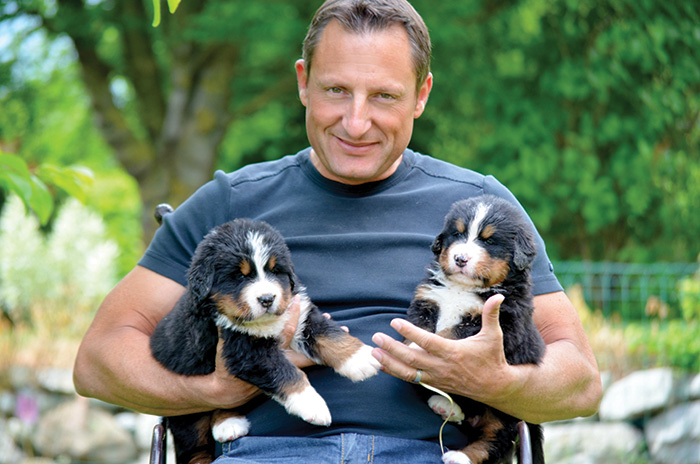 BIS: Which traits are important for a successful show dog?
Andrea & Christophe: Good structure, strong bones, gaits.
BIS: With how many kennels have you been working with and which ones are they? How important was cooperation with other breeders throughout the years?
Andrea & Christophe: I am lucky to have been able to use studs from some world famous kennels (Stokerybos, Rijkenspark, Starry Town). I am very grateful for this. But I also discuss dogs for hours on the phone with my friend Georg Woschitz who has the Jauntal kennel in Austria. Tiziana Mauro from Starry Town is always ready to give me good advice and we have lots of discussions about breed- ing. The cooperation between breeders is very important and we can all learn from each other. I have formed wonderful friendships with some breeders.
BIS: Did you have a mentor when you got started? In case you had,who was it?
Andrea & Christophe: Our first Berner was from the Savora kennel of Verena Treuthardt. She was always ready to help me with good advice and to give me the benefit of the valuable experience she has gained in over 40 years of breeding Bernese Mountain Dogs. Now I can pay her back for this because in a few weeks she will be getting a puppy from my kennel. But also Martha und Hansruedi Leisi from the Hausmatt kennel gave me tips.
BIS: Tell us please the main characteristic you admire in the breed?
Andrea & Christophe: The beauty and the charm of the Bernese Mountain Dog is naturally irresistible. On top of that there is his fantastic character. He is so adaptable and he is happy anywhere as long as he is with his owner.
BIS: What are your goals in the breeding program?
Andrea & Christophe: Our goals are to breed healthy dogs with a lot of type which is not always easy.
BIS: How many lines have you used to date? How many generations of your own Kennel name do you have in pedigrees? How many dogs have you bred?
Andrea & Christophe: In all the years I have used 15 brood bitches. Some had only one litter and others more.
At the moment the fifth generation is running round with me at home. I have brought up a total of 183 pups.
BIS: Have the Bernese changed in any way since you first got involved with the breed?
Andrea & Christophe: The Berner has come from being a farm dog to being a much loved house pet.
In the past, the Bernese were never groomed as much at shows as they are today. Although internet makes it much easier to find information about dogs, I think that breeding has become much more demanding. It is still not easy to find the perfect stud.
BIS: What do you consider your greatest achievement in breeding and in showing dogs?
Andrea & Christophe: I am happy to say that with one single exception, I maintain contact with my puppy buyers and know exactly if dogs that I have bred are still alive and I am so happy when people want a second or even a third dog from me. Ever since I have been breeding, dogs from my kennel have received conformation championship titles and have always been regularly placed at conformation shows.
BIS: What success has not come yet for you, but you would be happy to reach it?
Andrea & Christophe: The big famous wins like World Winner, Crufts, Westminster.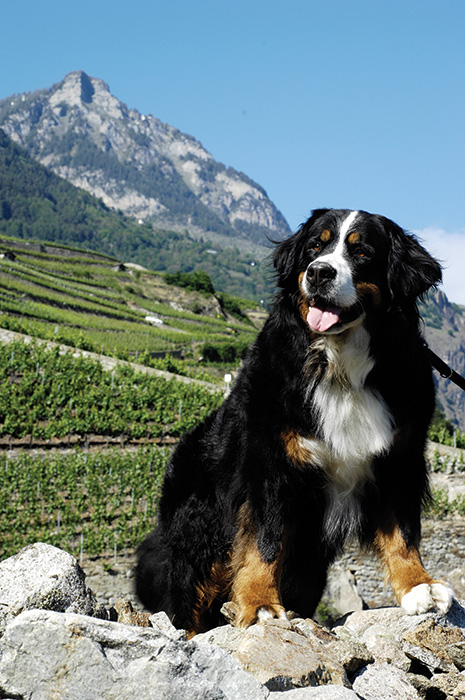 BIS: Please mention 2 or 3 Bernese which are not owned, bred or shown by yourself, that you particularly admired, and tell us what you most admired of them.
Andrea & Christophe: Bobby und Emerson van't Stokerybos, Bernerdalens Uno Amigo Buono, Barancourt van de Weyenberg are all wonderful dogs with a lot of type and fantastic gaits.
BIS: Every breed has some common problems. Which is the most common problem in your breed as seen from a breeder's point of view?
Andrea & Christophe: As far as the health is concerned, the longevity still leaves much to be desired. With the exterior there is no guarantee that two beautiful dogs will have beautiful puppies. This would be too easy and every breeder knows to expect surprises.
BIS: What has been the biggest disappointment in breeding and showing for you so far?
Andrea & Christophe: My greatest disappointment was to lose all the puppies in a litter except one. Only to get very average pups from really promising matings. And I will never forget once I was standing in the ring with a female which was a multi-champion and the judge told me she was not a typical Bernese Mountain Dog.
BIS: What qualities do you admire most in a judge of your breed?
Andrea & Christophe: If he can see the qualities of a dog with one glance.
BIS: What are the most important characteristics to keep in mind for anyone wanting to become a good Bernese judge?
Andrea & Christophe: When you can read the judge's evaluation after a show and this is a good description of your dog. A good judge will assess a dog fairly without just picking it to pieces.
BIS: What would be the most important advice you would give to all serious young breeders?
Andrea & Christophe: Breeding means trying to improve the breed which is not always possible in one generation because you have to work on one characteristic at a time, try to improve one characteristic in each generation without losing any of the good qualities you already have. It is a great challenge to breed a beautiful dog and it is definitely easier to buy a good dog, although even then you still need a lot of luck to buy a good one. So a young breeder has to be patient and realize that it takes a lot of patience and that there are a lot of ups and downs along the way. However if you do breed a good dog you have every right to be very proud of yourself and that is what makes breeding so exciting.
BIS: What would be the most important advice you would give to all new Bernese judges?
Andrea & Christophe: To look at the dog as a whole and not just look for faults.