Cecilie Fjeldtvedt Schleer
A promising beginner
How do you feel?
As a new breeder, there is a lot going on in my head. The thoughts are about fear of failure, the desire to succeed, the pleasure of creating something and the expectations of finally seeing the first results of the choices I have taken. Terrified delight is the most descriptive expression of this situation.
What would you need to know to reach your goal?
Many questions must be asked and considered when starting breeding. Are my breeding animals good enough? What are their strengths and weaknesses? Are the weaknesses so small that they can be defended in breeding? What do I want to offer to the breed with my breeding in the short and long term?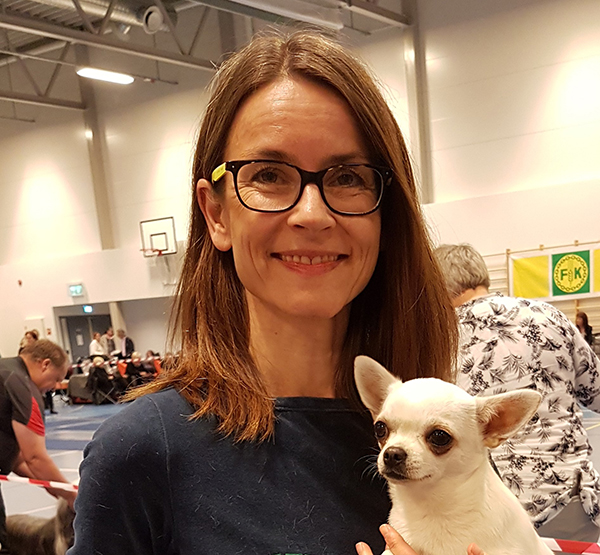 What are the most important factors in your breeding?
First, I must see my dogs with neutral eyes. Then make others judge them both show judges, other breeders of the same breed, but also experienced breeders with other breeds. They all have the knowledge I can take advantage of. Ultimately, my decision lies with me, but others' constructive feedback is important to keep in mind.
I need to acquire knowledge of the breed standard. The health and anatomical challenges the breed has or may have in the future because of today's breeding. Read as much as I can, talk to experienced breeders, and thus build up my knowledge so my breeding will be a positive contribution to the breed both now and for many generations to come.
The most important thing for me is to breed healthy and functional dogs to please me and other families. It means breeding from well-constructed dogs with a proper temperament and no health problems. Dogs that are correct in anatomy with strong bones and correct angulations avoid many problems. The type must be preserved, and most importantly extreme variants are to be avoided. Harmony is the key word. It is also important to follow the breed club's breeding recommendations.
The goal is to find breeding partners that are similar in type, but without too many of the same dogs in the pedigree.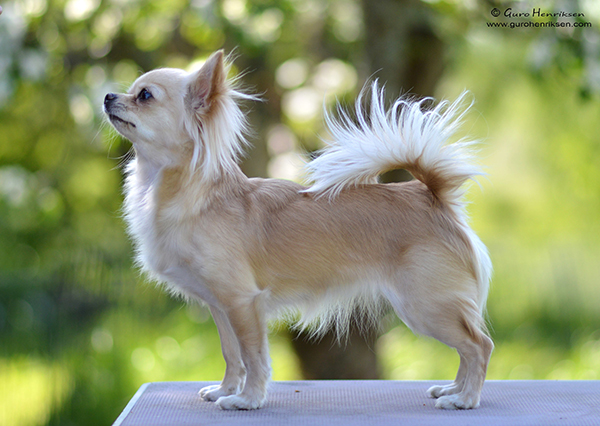 You are breeding Chihuahuas. Is that a challenging breed and if yes, why?
Yes, Chihuahua is a challenging breed to breed. The bitches give birth to a quite large number of puppies compared to their own size. This can lead to birth complications. The breed's well-known health challenges are patella luxation, some eye disorders and hydrocephalus with epilepsy. Luckily, the breed clubs are working very hard with these issues and most breeders follow their recommendations.
On the other hand, we can see a wide variety in type: something that is visible in construction and looks. It can be challenging to get puppies that are consistent in type. Anatomically, we see some bad fronts and we need better hind angulations. In some countries, we see trends towards breeding Chihuahuas with shorter nose than described in the breed standard. If this trend continues, we may risk ending in the same situation as other brachycephalic breeds with long soft palate and breathing problems.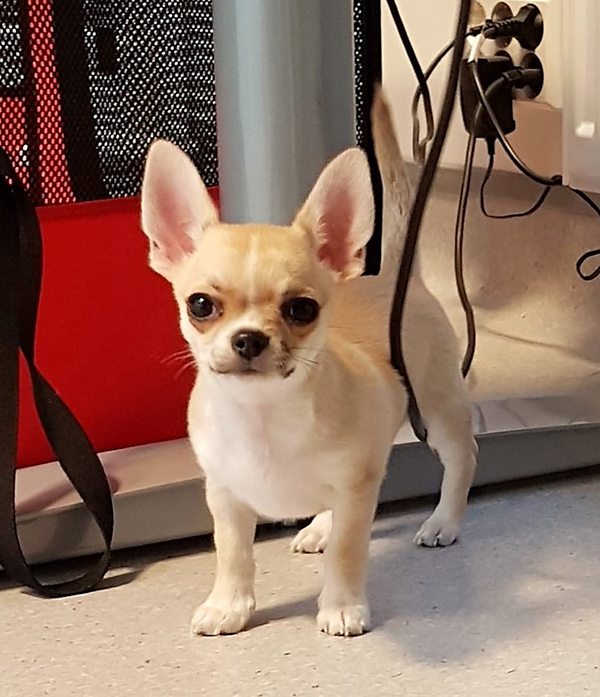 Although Chihuahua is a breed that is large in number, the local genetic variation can be small. This is because most European Chihuahuas come from the same founders and since the registration book is closed, it is not possible to get new genes via unregistered dogs.
Unfortunately, we also have a bottleneck effect of the popular sires: 'the winner takes it all' – so it is often the same gene pool that is used; we can also observe the dominance of a few large and highly respected breeders. At the same time, some breeders report that it is difficult to sell male dogs to other breeders, and they then end up as family dogs without their genes contributing to the future breeding. There are not enough available males to even the number of bitches used in breeding. Ideally, it should be 50/50.
All of this contributes to narrowing the gene pool and will eventually lead to negative consequences for the breed. Cooperation between breeders across continents may be a clever idea if the dogs are not too closely related. Pedigrees must be studied for many generations back, preferably more than 10 and as far back as possible, so that we don't unknowingly breed on the same genes with different kennel names.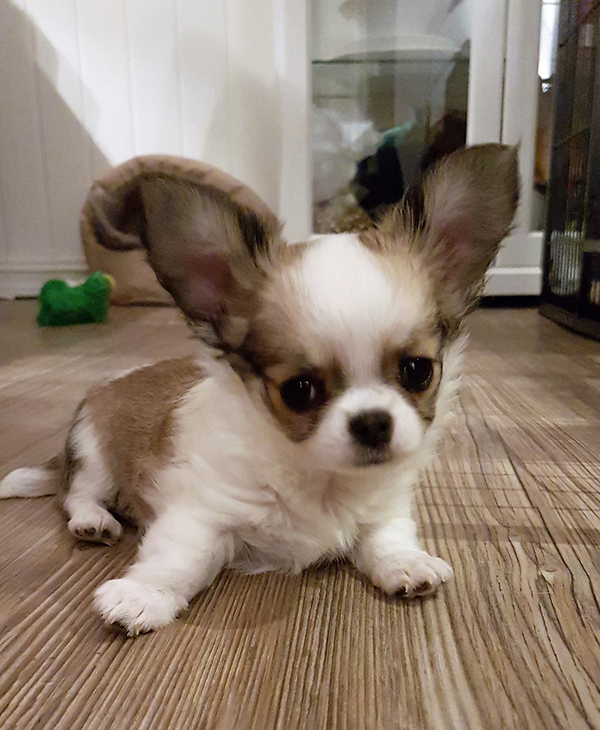 What kind of advices do you have?
My first advice was to write down everything I knew about my own breeding animals. Health, construction, temperament and everything I could find about the dogs in their pedigree. What results have other breeders obtained from breeding dogs from your pedigree? Are there any health issues? Ask and be prepared not to get all the information you need and value the breeders that are open and honest.
My second advice was to make sure that the structure of my bitch was stabilised by choosing a male with similar construction. If I cannot find the right male in this country, I am willing to travel abroad. It will cost me some money but will surely pay off in the end.
My third advice was about patience. Think 3-4 generations ahead and do not focus too much on small details. Work slowly but surely towards the goal. It is a marathon, not a 100-meter run.
My fourth but most important advice is to be the best judge for my own dogs. I should be able to evaluate my own breeding dogs as well as a judge to make wise decisions, and not let my love to the dogs override how they actually look like.
Last but not least – I have to be brave enough to follow my instincts.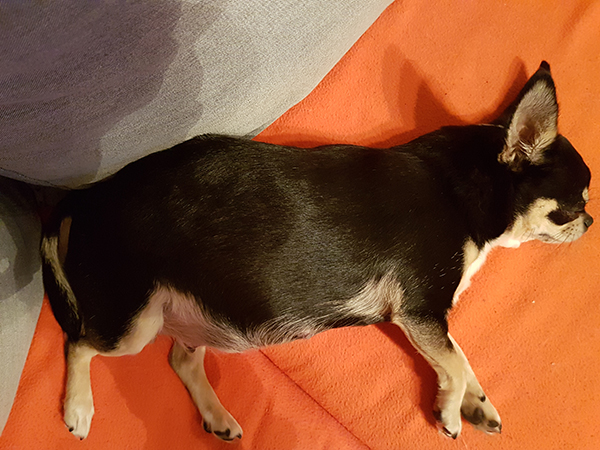 What kind of collaboration would you like to have with other breeders?
A new breeder like me has a lot to learn from experienced breeders. The ability to discuss breeding animals, ideas, pedigrees, results from different matings and, not least, the way forward is worth its weight in gold. Even if I am new, I can also contribute with new ideas and new knowledge we both can benefit from. Borrow males from each other and make future plans regarding breeding gives a lot of possibilities. Their experience is important to me. Where did they go wrong and why? What choices led to success?
Working with breeders in my own country and across borders will be a dream.