Who are you, which are the dogs in the pictures? Who shot them?
I have always been interviewed as a dog shows handler and my other activities were left in the corner so I would like to express my gratitude and huge pleasure to answer some questions about the second part of my lifestyle. I am Vilte and as I mentioned before I am a dog handler from Lithuania who is currently living in Paris. I have been involved into handling since 2010, but later I found another activity – sledge (?) dogs sport. I got involved into individual discipline which is called canicross – where a human runs with his partner – a dog.
I started my career as a canicrosser with a german shorthaired pointer Hugo (Exito Bueno Upe) of my friends who agreed to give their dog for the trainings and competitions. Later on as I improved as a runner I wanted someone faster who would push to my limits and at the same time my mum started running as well. So I lead her Hugo and thanks to another friend who had to stop his career as a canicrosser he let me to train with his dog – another German shorthaired pointer from the same kennel (bred by very close friend Migle Narbutaite, owner of kennel Upe) – Baltia Utu Upe. Both of the dogs became like family members for us. We take them to the races, train together, they spend a lot of time with us, especially during the races season.
So the two pictures above are with Utu, the German shorthaired pointer, my team mate. The first picture was made Kaunas District Mayor Baltic Cup in Lithuania last April where I and Utu finished 2nd in women canicross from a competitive class. And the second picture was taken in Poland. Together with a friend of mine we traveled to Hard Dog race competition in May. It was my first experience in this kind of competition. Together with the dog we had to run 6km with different obstacles: swimming in the lake and river, muds, heavy bags to carry, forest, tunnels and etc. To my surprise Utu and I – we ended up 1st from almost 200 women! It was unforgettable.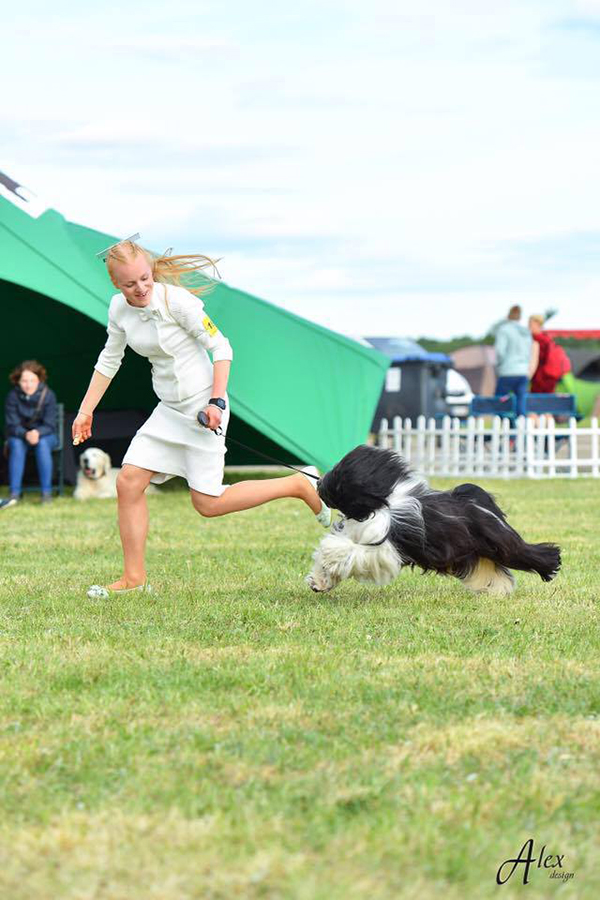 Background with dogs?
As long as I remember myself I have always been passionate by our four-legged friends. My mother loves to tell the story how I could not miss a dog in the street even as a four years kid without asking if I can pet and touch him. Probably that encouraged my family's decision to welcome a puppy at our house when I was only 6 years old. It was a boxer mix. It was a beautiful sunny day so my parents told me we would drive to a park for a casual weekend's walk, but instead we stopped in a parking and I saw some people coming with a boxer puppy on the other side of the leash. It is hard to express in words, even after so many years, how I felt! Saying that I was the happiest creature on earth would be a misunderstanding.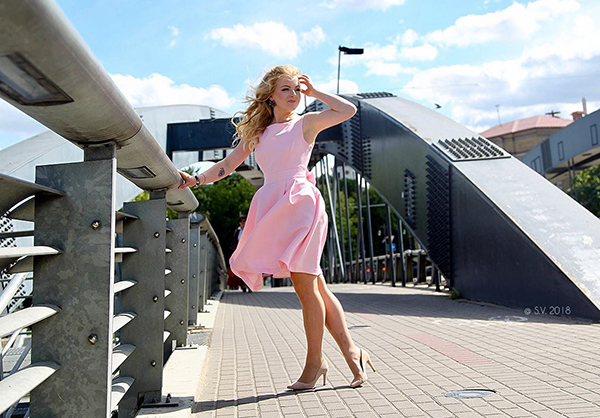 We did everything together – slept in the same bed, on the same pillow, shared a bowl of soup, a corn of ice cream. Imagine how proud I was, a 6 years old kid, walking a huge boxer around other kids of my age. Few years later we moved to Paris for my mum's job and unfortunately Dora, my biggest friend, passed fast after that. There was no question that we could live without a dog at home, but due to travelling and live in a huge city we had to choose a small dog that would be easier to transport. We almost fall for that "Yorkshire terrier's boom" but our friends once brought a miniature schnauzer along which was "love from the first sight".
Not much time after a four months old pepper and salt zwergschnauzer puppy travelled from Lithuania and joined our family in Paris. Bonny is currently 10 years old and lives a happy life together with my other two dogs. Another miniature schnauzer Tango, Multi Ch/JCh/Winner Thunderbird Tyras Akvamarinas and lhasa apso female Ch./JCh Fly Fly From Paris With Love. Actually it was Bonny with whom I started competing at dog shows. After 3 years in Paris we went back to Lithuania and my father brought me to a local show in our city. At the end of the day I knew that it is not guitar, ballet or painting I want to do. I told to my parents that I wish to become a dog handler. So April 2010 I went to my first handling class and never actually went out J Dog shows became my hobby, lifestyle and "addiction" that I hope to carry forever! Later on shows brought me to sled-dogs sport & introduced to other activities.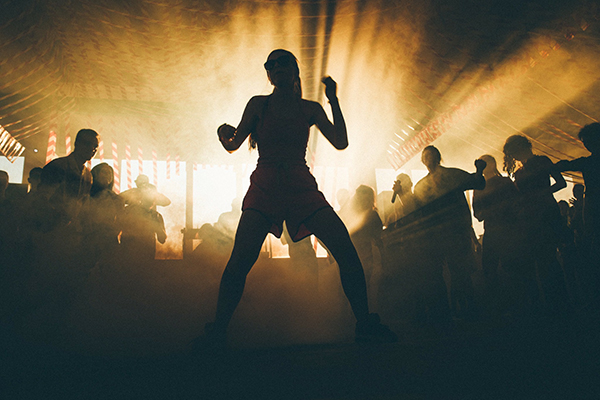 What kind of a dog is a good partner in competitions?
A motivated one! A dog that does not stop for pee or drink, without fear or aggression, who does not see any bitches in season (who are not forbidden in sled dogs sport) and any other dogs – only the trail. That has the willingness to go forward step after step and pull till the end. But this comes with lots of training and most important of all only when there is trust between the two runners – two team mates. I love the saying about a canicrosser and its dog: "two hearts – one beat".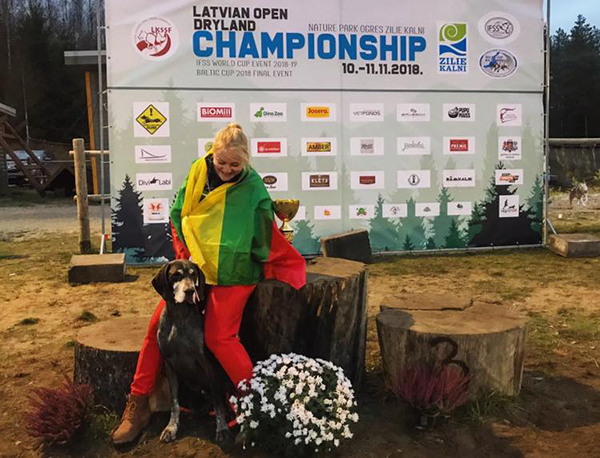 Are the distances long?
Actually in canicross and other individual disciplines are never too long. Runners usually share more or less the same distance as mushers taking part in Bikejoring (Bike + dog) or scooter + dog discipline. It varies from 3.5-5.5 km. It depends mainly on the weather. If the temperature at the day of the event is more than 22 degrees the organizers must shorten the trail (to 3-4 km long) due to the risk of dogs' health. It is more a sprint competition – during the 3-5 km. you do not have time to rest or stop. Meanwhile there are disciplines where a team of 4-6 dogs pulling a tricycle or a sledge where the discipline can be longer, especially in USA or Canada. The competitions last few days and mushers are making around a hundred of kilometers. Then the endurance matters more than the speed.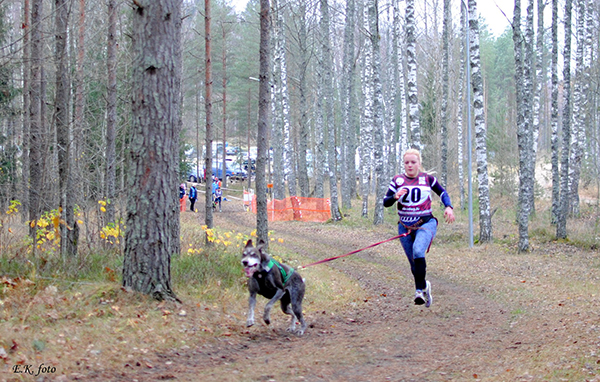 How do you train before the competition?
A team in canicross is made of two – a good runner and a good dog. First of all it is important to be able to run alone, without having someone pulling you. If a human who had never ran before would start directly with a dog, it is almost certain that after few hundred meters he would collapse J To compare – running approximately a distance of 4 km. with a dog a great, really competitive man can keep the pace of 2.5 min/km. I try to keep the pace of 3.5 min/km. Running without a dog the same man would stay around 4 min/km I guess (depending on his background in running) and I try to keep between 4.5-5min/km. A beginner running alone usually goes at steady pace of approximately 6min/km. You can imagine the body's reaction if a novice would attach a dog that is used to run a kilometer in less than three minutes. So first of all it is essential to work with your stamina, speed and endurance. Then when you are a team with your dog – it is useful to run in company with other canicrossers. The concurrence between dogs gives them motivation to run faster.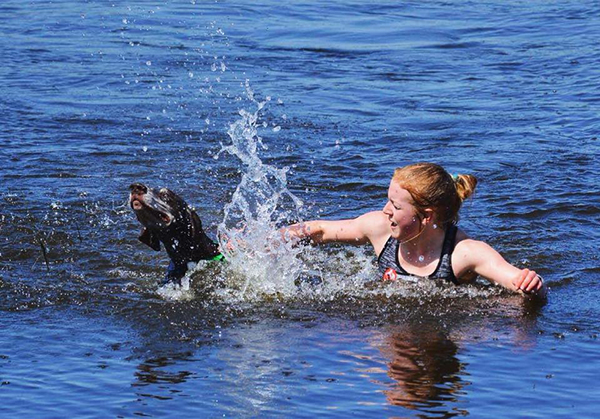 When you get exhausted when competing, how does a dog react?
Usually the dog who is motivated to run does not care about tired musher J the dog keeps pulling as much as he or she is able to. Of course getting slower does not help dog to pull that may lead to a lower pace in overall, but when a German shorthaired pointer or a greyster (a sport-mix) wants to run – the dog will make you to forget the fatigue also till the finish line. I, for example, keep telling myself that the faster we run, the sooner we will finish. The more we will be able to rest.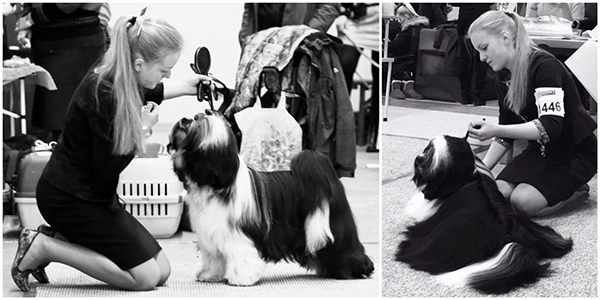 We know that you are also a good handler. Have training helped also to that?
Well any activity with dogs helps to know their body language. When I came into sled dogs sport I was not a novice anymore in dog show world. I knew how to communicate with a dog. It was easier to "jump" in the field. On the other hand, as a handler I now sometimes take the dogs that I am preparing for shows for a run. It helps build the bridge between each other. The first contact with a future show dog may not be a show leash! It can be a short jogging to form a relationship!