Microchihuahuas • Chihuahuas
Interview with Mr. Dusan Paunovic • Interviewed by Jovana Danilovic
Published in Best in Show Summer 2016
BIS: How long have you been breeding Chihuahuas? How and why have you decided to breed Chihuahuas?
D.P.: I have been in this breed for 26 years. It was love on first sight, when I was a child and I watched a TV show about Chihuahuas.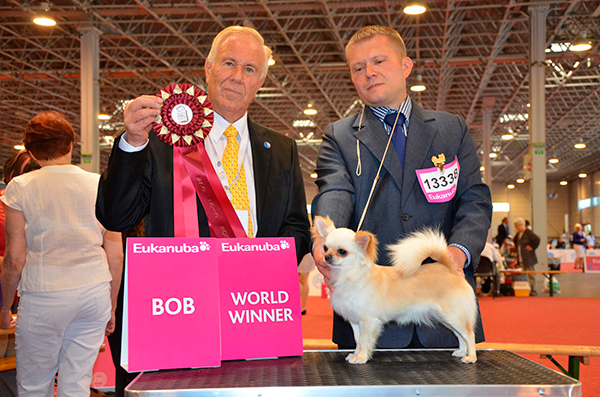 BIS: What makes Chihuahuas so special and different than other dogs? Why would you tell people to get a Chihuahua?
D.P.: The answer to this question is double SS: smallest and smartest. Those who have this breed know how fast they get under your skin.
BIS: Which are your foundation dogs? Can you tell us little bit about your beginnings?
D.P.: My foundation dog was a male from Italy, at that time from one of the most famous kennels in Europe, Del Pasador. I showed this dog and got my first big results as r.BIS at our biggest Yugoslavian show in Belgrade. After that, shows became my life.
BIS: How many dogs do you have? Are they all living with you or do you also practice co-ownerships?
D.P.: I have six dogs with me, and few with my friends. It is not exactly co-ownership, Iíd say that the owners become my friends.
BIS: Do you collaborate with other kennels??
D.P.: I have my own kennel, but of course I work with another kennels and bloodlines. I think that we can improve the breed only with strong team work.People should forget personal relations and turn more to quality of the dogs.
BIS: Did you have a mentor at you beginnings? Who do you admire the most in the breed and breeding in general?
D.P.: When I started in Yugoslavia, there were few breeders, nowdays they are dead, or stopped breeding. Of course, their advice in the beginning was very important for me, but afterwards I started to get to know more bloodlines from all around the world.
BIS: What is the most important thing about being a breeder?
D.P.: Knowledge, honesty and dedication.
BIS: What makes one a good breeder?
D.P.: Not only one famous champion dog makes you a famous breeder. In my opinion, generations and generations of our dogs should be recognizable in type and of course, most important is their health and temperament.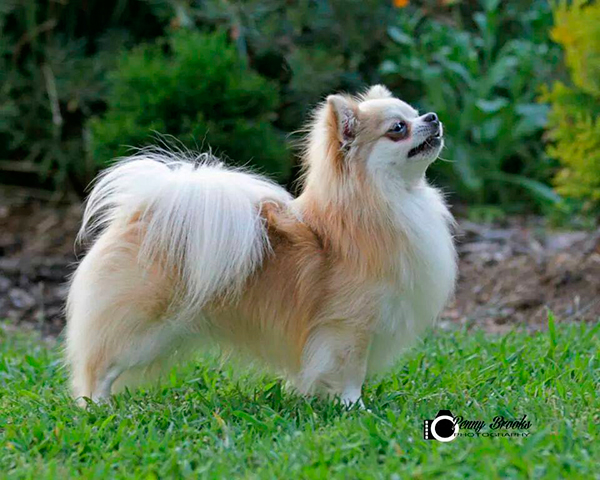 BIS: How many litters do you have per year?
D.P.: Sometimes 0 and as many as 3 or 4.
BIS: Do you remember your first Champion? Do you know how many Champions did you have so far (your own dogs, and your bred dogs)?
D.P.: My first champion was my foundation dog, and now I have bred world, European, international and national champions in many countries.
BIS: What are your personal favorite wins?
D.P.: My favorite win was with my Multi World European Winner Microschihuas Furious`N`Extravagant in wds Budapest, 2013.
BIS: Are dogs shows important for breeding? What advantages does showing bring and what are the disadvantages for a breeder who shows ? How do dog shows effect breeding (and a certain breed in general)?
D.P.: Shows should be the best aspect of breeding and they should make way for future breeding. But nowdays, I am so sad to see many winners who are far away from our breed standard. I don`t know if itís a problem due to too many shows, or poor judging decisions.
BIS: What do you think about flashy and showy dogs as opposed to balanced dogs?
D.P.: I always prefer to breed with anatomically excellent dog, with all health results, then only with nice picture in the ring.
BIS: Do you think Show trends change the breed and in what way?
D.P.: Yes, sometimes, not only in this breed, I see too much grooming and over handling, which are are not important things from my prospective. Again I repeat, balance and the breed standard should be our priorities.
BIS: Many people like to show under breed specialist judges. What is the most important thing to remember when judging a Chihuahua?
D.P.: The most important thing is to never forget that a Chihuahua is a real dog, just in a small package. It must be correctly built and must move well.
BIS: Do judges risk changing the breed if they don`t understand the Standard correctly?
D.P.: For a smart breeder, they can never change anything, what ought ot happen to a poor judge is thathe becomes less popular within the breed and will have fewer entries.
BIS: What is the thing you would never compromiseon in your breeding program?
D.P.: Health, type and movement.
BIS: How do you think the breed hasevolved over the past few years?
D.P.: I can say, after judging in 50 countries all around the world, that lately breed quality is going down rapidly.
BIS: How many generation of your affix (kennel name) have you bred?
D.P.: I have bred 8 generations with Microschihuas affix.
BIS: What do you think is your biggest achievement as a breeder?
D.P.: Recognizable expression in the eyes of my dogs.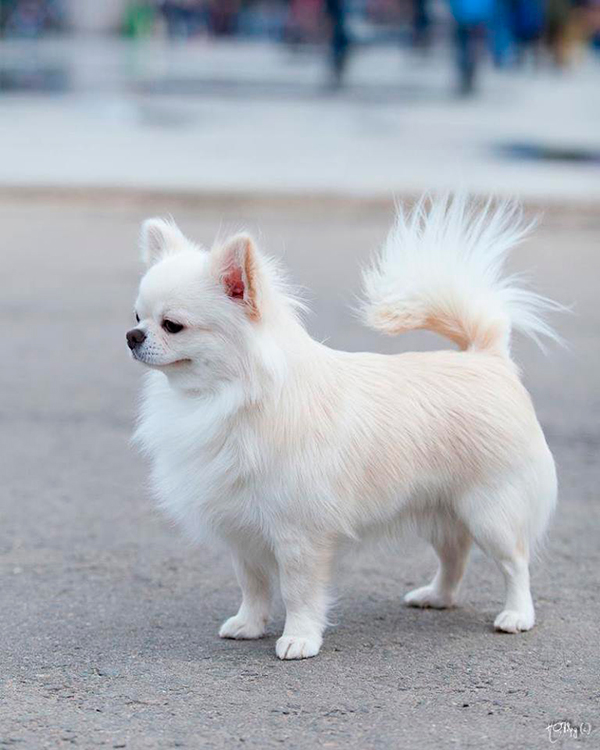 BIS: Which dogs (male and female) do you think have left the biggest positive mark in the breed? And why? How did they improve the breed?
D.P.: I can not say that only one or few dogs left a mark.
BIS: What do you think about breeding to titles and using ìpopularî Champion studs?
D.P.: I don`t think it is sure way to get a new champion. First , you should evaluate the faults of each dog and how work out howthey suit each other.
BIS: Do Chihuahuas have certain breed problems? Can you tell us little bit about breed problems in your opinion?
D.P.: I didn`t see many problems concerning health. I think that breed is healthy and natural.
BIS: What advice would you give to someone that is buying a Chihuahua for the first time?
D.P.: Don`t buy your future member of family in puppy mills or from backyard breeders.