We would like to thank to Felix Duque Cordoba for amazing interview and Milla Kanninen for everything you did for us.
Q: Thank you for your time for answering our interview. To start with, could you tell us how you started in the dog world?
A: I started about 24 years ago, in 1994, in the dog world. I had always owned dogs with my family, we had German Shepherd dogs since I was a young boy, so I had always felt a special connection with dogs. My family lived in a farm, so I grew up surrounded by different animals, until one day I got the opportunity to get to know the dog world, which I had no idea existd. I had no idea of what a dog show was, a pedigree, or anything related to this. I got into it bit by bit and finally ended up leaving my daily job and leaving my old life, and starting to dedicate my whole life to this world that I felt passionate about. But things have to be done right, the building must start with the basement, not with the roof, so my first step was to go to Paris, to the house of Marc Mansuet, and learn the grooming of Yorkshire Terriers. I wanted to dedicate my time to grooming and preparing them for the shows. At Marc's house, in the few months that I spent there, I woke up at 6 in the morning and went to bed at midnight, spending the whole day grooming and training dogs, learning all that I could from him. That showed me that achieving a good result at the show is a result of very hard daily work. He showed me what hard work was. After Paris, I started to work with other breeds at home, with the help of many breeders. My biggest advantage was that I got to do this all with Philippe Gallardo, who had already dedicated many years to the dog world. Apart from the help and advice I got from other breeders and handlers here, I was obsessed with the type of handling in the USA and South America, and I would buy magazines and study all the photos in them to learn. This was before we got internet. I would just stare at the photos of the winners and try to understand why they are winning. I started with hard work, education, sacrifices and respect, the basics of the dog world, perhaps they have been lost now…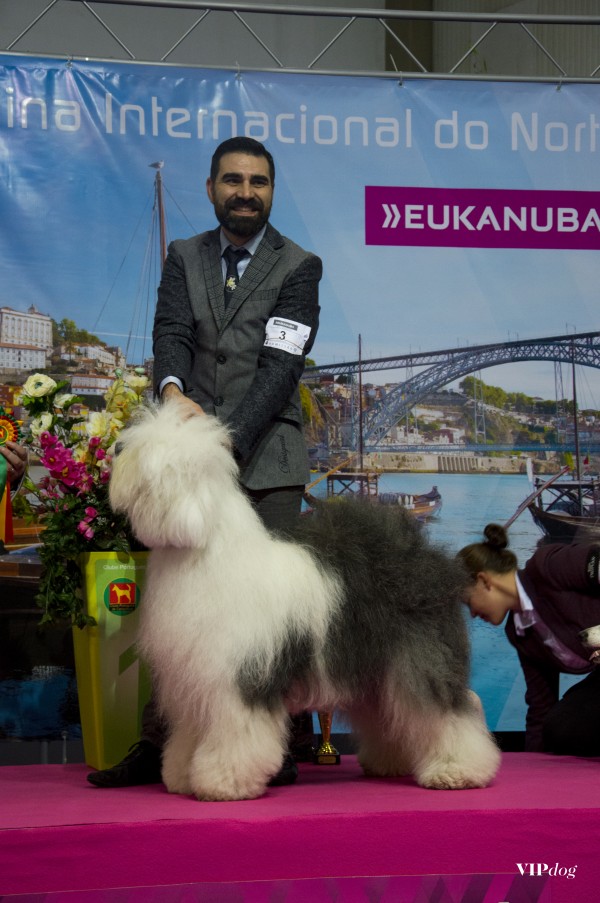 Q: Do you remember which was your first dog show? Who was your mentor in the beginning, if you had one?
A: My first dog show was in Luxembourg, I remember we went there to show an Afghan Hound, and I was highly impressed by seeing so many Afghans together. I think there were over 100 Afghans because back then, it was a very important breed. There were many professionals there and people with a dedication to the breed that has been now lost. I saw honesty, professionalism, and respect, things that are not present at the dog shows anymore. I had been working at home preparing the dogs and grooming them for some time, and I loved to see the results of my work in the ring, and that is what got me started at the dog shows.
My mentor was Philippe Gallardo, he was the one who introduced me to the dog world. He was already breeding Afgan Hounds when I met him, so I got into the breed very quickly, but he also taught me about all the other breeds, about their morphology, about type, about their grooming and how they should be shown, explaining WHY each of the things had to be done. I really appreciate that he taught me in that way, because now I can say I understand why each thing is done how it should be, not just how to do it. Of course, other people have also helped me, breeders such as Marc Mansuet, Adolfo Spector, Carlos Fernández de Renau, or other handlers such as Flavio Werneck, Daniel Beloff… I don't believe anyone has just one mentor, we are all introduced into this world by one person, but then it depends on us if we want to keep learning and keep improving ourselves.
Q: When did you win your first BIS and how did it feel?
A: I don't remember when I won my first Best In Show. I remember a few of them that felt special to me and I can tell a little about them. The first Best In Show I remember was won together with Philippe Gallardo, in the beginning. I was the one who prepared and trained the dogs and he showed most of the dogs, because I really panicked about going in the ring and showing, I was embarrassed going in the ring in front of people. The first Best In Show with Philippe was in 1996 if I remember correctly, at the Milan Dog Show, I cried from the emotion. Another Best In Show that I remember well was with Doña Ines de la Gran Aldea, an American Cocker, at the Madrid Mandatory Point. She had a great career already, but that day she showed great for me, she flew in the ring and made me proud. When they announced the winner, I could finally relax after so many hours of training and grooming and so much work I had put into her. That feeling is what has always kept me going on in the dog world. With hard work, you can reach any goals.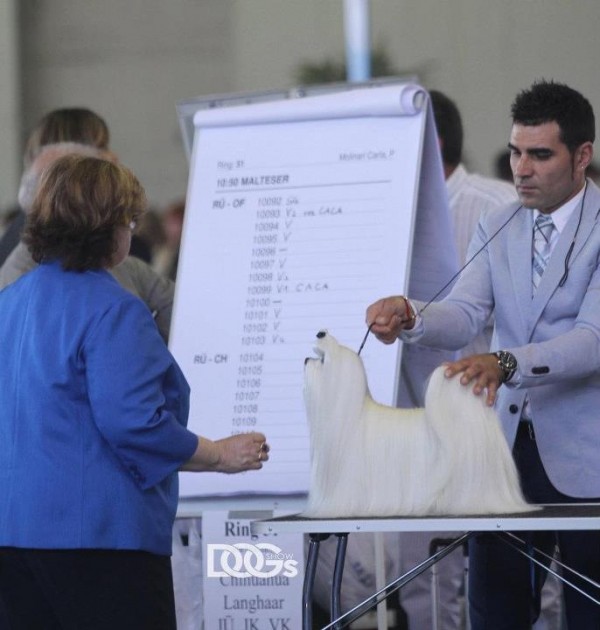 Q: What do you consider your biggest achievement in the dog show world?
A: I have achieved many important things in the dog show world. I think as a breeder, the most important achievement is to create your own type of dog that can be recognized as your breeding all over the world. As a handler, in my breed, which is Afgan Hounds, winning the National Specialty in the USA was probably the greatest achievement as the handler of my own breed. It is the greatest thing to reach the type that is looked for with your homebred dogs. As a professional handler, I think I have reached all the goals I have proposed myself. What I really enjoyed was taking breeds that are not so popular, and making them win great things, such as Norfolk Terrier, Dandie Dinmont Terrier, Chinese Crested… They are breeds that are not usually winning the groups or getting placed in Best In Shows. At a personal goal, for me it has been really important to be able to create a connection with the dog that I am showing, understanding the dog, the breed it belongs to, the grooming it needs and transform the dog… Making the dog important in the dog world, making his pet name famous among the people is the most important sign that you have done your job correctly. I could name World Winner titles, European Winner Titles, Best In Show wins… but that is boring and I think it has never been the most important achievement for me.
Q: Have you bred any breed?
A: I have bred Afghan Hounds and American Cockers, with the affix Khafka. In Afgan Hounds, I bred many generations of World Winners, European Winners, National Specialty Winners. It is a breed I feel very passionate about, and I am very proud that my dogs are in the pedigrees of many of the Afghans that are competing and winning nowadays. In American Cockers, I only bred a few litters, but produced some very successful dogs. I was lucky to start with the help of my friend Adolfo Spector, who was my mentor in the breed.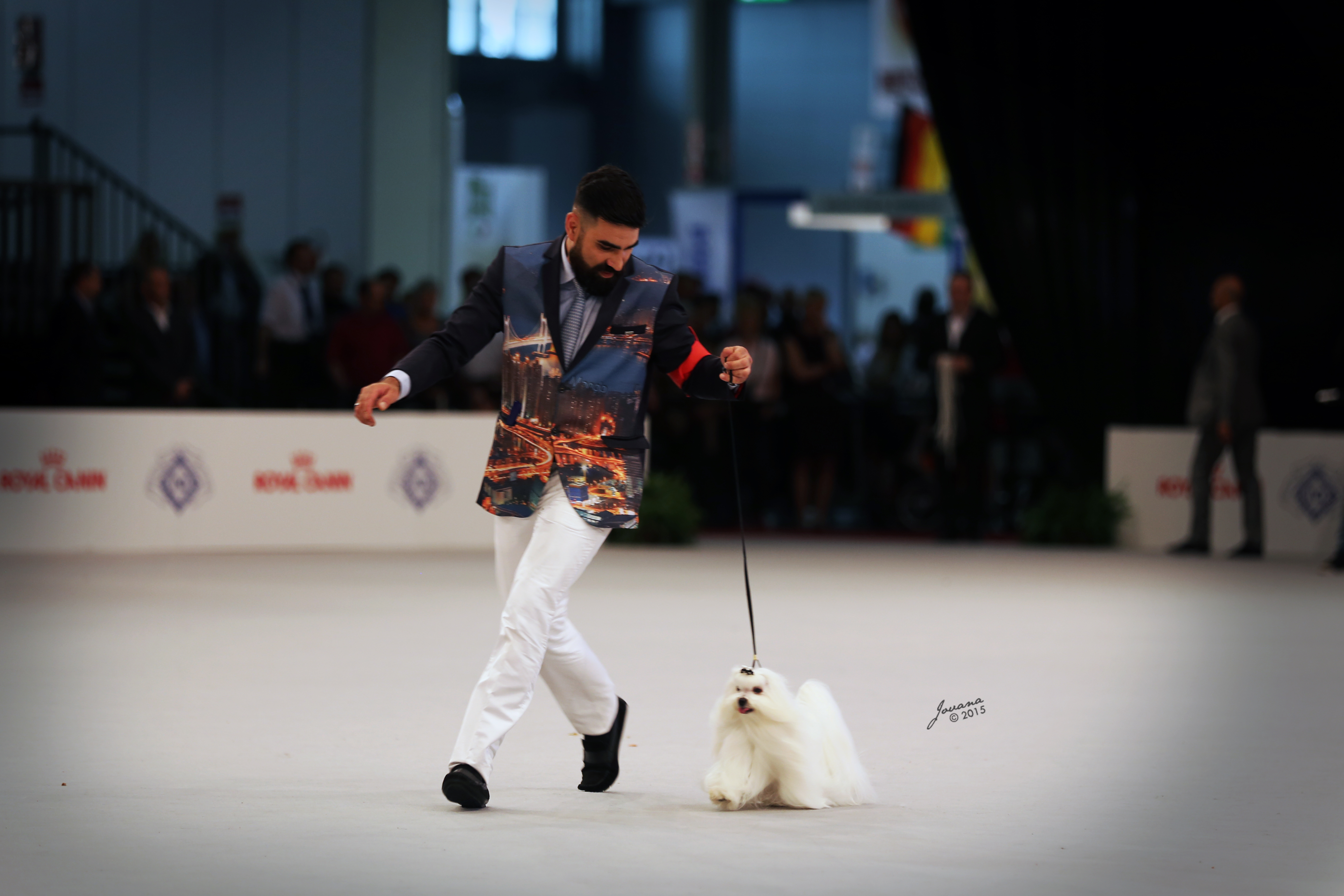 Q: How did you start with grooming? When did you start competing in grooming competitions?
A: I started with grooming when I started to handle dogs 24 years ago, because it is all related. I started as a competitor in grooming competitions with the help of Judith Camarasa, who was the one who got me started. I first competed at a grooming competition of Artero in Barcelona. Artero saw my talent and asked me to join their Creative Team of groomers, and I started to travel with them all over the world competing in grooming competitions and giving seminars to people. This was quite a few years ago, maybe around 2008 or so.
However, as I said before, grooming is related to handling so I did start a lot earlier. All handlers should be able to do grooming or they are not good handlers. Grooming at grooming shows is different from grooming at the dog shows, but if you are a good groomer you can dedicate yourself to both. For the dog show grooming, you must understand the morphology of the dog better in order to give him the shape that is looked for, depending on the breed. I think anyone is able to learn and reach their goals, with hard work anything is possible.
Q: What do you consider your biggest achievement in the grooming world?
A: Best in Show at Ciseaux d'Or, which is a grooming competition of excellence. At the Spanish Championship, winning 3 gold medals and 1 silver medal, which means winning in all the categories at the same competition. Becoming a Spanish Champion. Winning a silver medal at the Oster Championship for Champions. I think these have been the biggest achievements at a personal level. Apart from this, with the Artero Creative Team we have won many competitions in Belgium, Italy, France, and have been recognized worldwide. Now I form part of the Artero Creative World Team, which is a team of the 15 best groomers in the world, and I am lucky enough to be one of them despite the hard time that I am going through. All this thanks to the Artero family.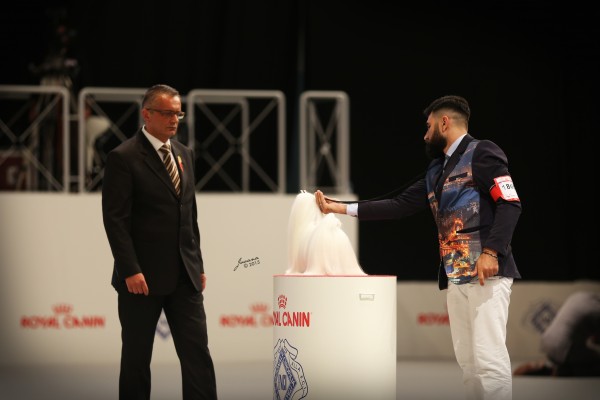 Q: We all know you have had to retire from the dog shows and grooming and that you talk openly about what has happened to you. Please tell us about this.
A: My life changed completely. At the end of 2016, I had a lot of pain in my left arm, things dropped out of my hands, I had no strength… I went to the doctor and they started to do exams until they discoved what I had – ALS, Amyotrophic Lateral Scelerosis. Basically it is a progressive neurodegenerative disease, that affects the nerve cells in your brains and spine. These nerve cells are the ones that help you make voluntary and involuntary movements, so each time you become more rigid. No one knows how this illness starts or where it comes from. It has no treatment or cure. It just makes you freeze. All we know is that your arms, your legs, your body stops responding, even breathing gets more difficult. But the brain is intact, and that is what makes this illness so difficult. I ask myself each day, why me, why I need to go through this, why there are so many other young people suffering from the same illness. I think it is one of the most cruel illnesses I have seen, because you can not even manage your daily life. You can not eat, because you can not lift the fork, you can't go to have a shower, you can't get dressed alone… And that is what makes you appreciate the small things in life. I try to enjoy each sunrise, each smile, each step I take as long as I can walk. I decided to adopt the same attitude as with the dog world when I started. I need to find solutions to each problem this illness causes me. But it does not depress me, it makes me happy. Since I was diagnosed, I have more free time to dedicate to my friends and family. Before I used to dedicate all my time to my career. When I restructured my whole life, it was very hard, because I had to stop working and I had to leave my grooming salon. I had to find a way to pay for all the material that I need at home, I had to find a way to pay for a nurse to help me in my daily life, all this without any help from the Government. So, once I figured out how to manage my life, I felt the need to help others who are suffering. Every year there are 1000 new people diagnosed with ALS, but at the same time 1000 die of the same illness, so there are never many of us. Normally we are given from 3 to 5 years of life expectancy, so I know I don't have many years left in this world, but what I know is that I want to do all that I can to help raise funds for the professionals who are investigating the disease. I am doing campaigns together with a friend who is suffering from the same illness, Jordi Sabate, and all the funds we raise go to the investigation of ALS. It is hard to change your life, from a groomer and handler to owning just one Chihuahua. Each day is a new challenge. I am happy that all the hard work I am doing for ALS is paying off, Artero has helped a lot creating a pair of sheers to raise funds for the research, and they have my name on them… I am organizing events and fighting hard to win yet another battle in my life, because I believe Felix Duque has still many years ahead of him….
Q: Which of the dogs that you have showed was the most special to you? And which was the most successful one?
A: I have showed many special ones, Tedy, Pablo and Antonia, Afghan hounds that I won a lot with, Ines, my American Cocker, who was a big winner also, Bertie, a Norfolk Terrier, Sofia, a Dandie Dinmont Terrier, Rocky the Chinese Crested, Fendi the Maltese, Louis the Lion Dog… There have been so many dogs that I remember with a lot of love. All these have been really special to me. Some of them have won even at the World Dog Shows, European Dog Shows, Best in Shows all over the world. I think probably the most winning ones were Pablo, Antonia and Ines. They were the most successful ones I have shown.
Q: What do you miss the most? And what don't you miss at all?
A: What I miss the most is being able to show a dog, being able to run around the ring, especially at the outdoor shows on the grass. Being able to groom a dog and transform a dog into a perfect one with grooming. I miss this is a lot because it was my whole life and my passion, and not being able to use my arms makes me unable to do it, although I can perfectly see it and imagine it. I miss seeing my colleagues and friends at the shows in different parts of the world, because I don't just have friends in my own country, after dedicating more than 20 years to this world I have friends all over and I do miss seeing them from show to show. I miss talking to important people in the dog and grooming world, talking about the dogs. Since I am now in a new phase of my life, I try to substitute these things from the dog world with other things, but it is difficult because I can never completely forget the dog world.
What I don't miss at all is a bit contradictory but it is also the dog shows. What they have become nowadays is not what I like at all. I see that there is no professionalism, no honesty, no respect and that hurts me a lot. I think people should be more honest and more professional. I don't miss loading and unloading my truck each weekend for each show, I hated that. When I see someone new starting their career, working hard to reach their goals, they remind me of when I started and they give me some hope that there are still some good hard working people in there, who don't just go there for the photos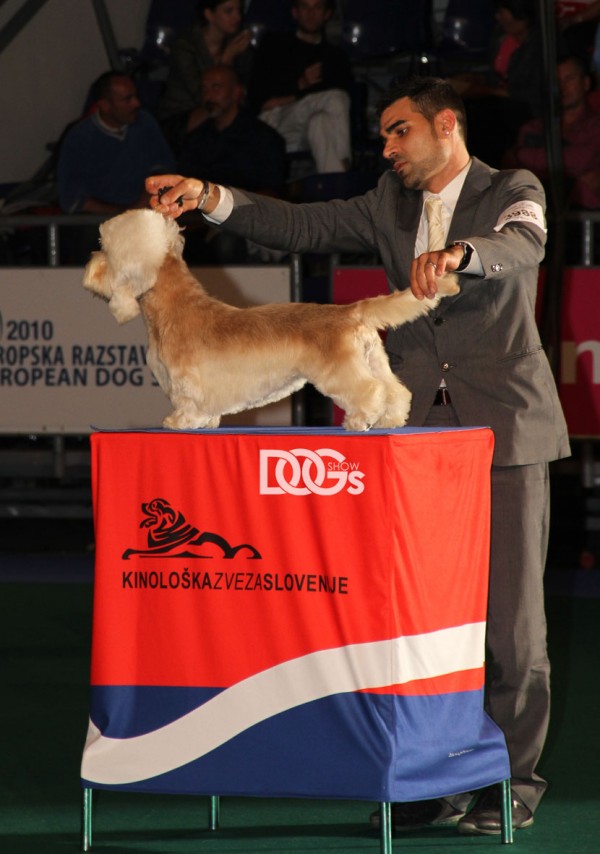 Q: Do you remember being through a crisis during your career and thinking of leaving it all? Why did you continue?
A: If I say no, I would be lying, because of course all of us have been through crisis. As I have already said many times during the interview, this is a hard job that requires your dedication 24 hours a day, 7 days a week. Sometimes after all the hard work, not achieving your goal because there is favoritism towards someone else, or interests, makes you wonder if you should really continue with this or just leave it. But giving up is for cowards, leaving it all is not a solution. If you have a dream, I can tell you that dreams can come true. My dream came true, I have reached all the goals I set for myself. I have always looked forward, never backward, and that is the attitude I have had with my job and I am now having with this illness, continuing forward with new goals and new ideas. So there are no crisis in a way, you just have to struggle forward towards your goal and try to make your dreams come true
Q: What do you dedicate your time to now?
A: Like I said before, now I dedicate all my time to this illness, I try to raise funds for the research on ALS, so that they could find a reason and a cure for this. All the time, my brain is trying to think of different ways to earn donations that are needed for the investigation. I also try to spend more time with my family, with my husband who is taking care of me, my friends who are close to me. I try to enjoy my time having coffee or a beer with them. Well, not having it myself, they need to give it to me, because I cannot hold it in my hand, but I still try to enjoy my life, enjoy these precious moments, live and be happy, and dream of a cure for this illness.
Q: What is your biggest dream or wish in life?
A: My biggest dream in life can be resumed in one word: happiness. I want to be happy. I would like to find a solution to this horrible illness that I am suffering from, although it does not depend on me, that is what we have specialists for. But I feel so sorry for all the families who are suffering from this, because when one is diagnosed with this illness, it destroys the whole family and it is so unfair. So, I would say that my biggest dream is to find a cure for ALS, to live and to be happy. As to the dog world, I dream of people being more educated and more honest.
Q: Could you name two people whose talent you admire in the dog world?
A: At the moment, there are many people I admire in the dog world. First of all, Javier Gonzalez Mendikote, "El Kiri", he is my little brother, and years ago we used to work together and I appreciate him a lot. He is very talented, he is hard working, he marks goals for himself and works very hard to achieve them. He is very competitive, He is educated and honest, and with all these qualities, he has reached a very high level. I admire him as a professional, although I think he should listen a bit more to the advice from the people he has around who really love him.
Other handlers that I admire: Daniel Beloff, Mia Ejerstad, Richard Hellman, they are handlers that I respect and admire a lot. I could mention some more, but I think these are, at the moment, the most important ones.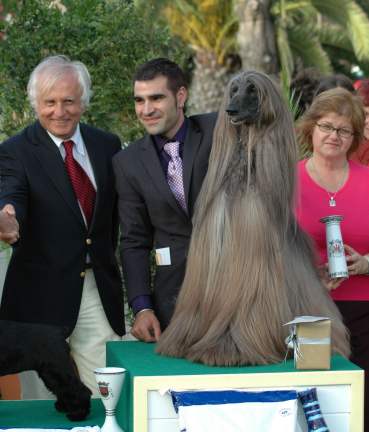 Q: How would you describe a professional handler? What abilities does one need?
A: A professional handler is a person who dedicates themselves to training and preparing a dog for a dog show. It does not mean that the handler takes a dog at the ring side to take him into the ring, no, that is only a 10% of all the job. A professional handler has trained the dog, needs to know enough grooming to be able to prepare the dog and have him in a good coat condition, take care of his health and cleaning, giving him enough exercise, preparing him 24 hours a day physically and mentally for the dog show, which is the top of it all. At the show, we can demonstrate all the work that is behind that dog. For me, that is a real professional handler. The handler needs to be sensitive enough to create an emotional connection with the dog. He needs to know about different breeds, know their standards, know about type, know about grooming and know how to handle the dog, always looking for something exceptional which will make the dog stand out from the rest. Hard work and effort, respect and education.
Q: What is your opinion about junior handling? Do you think professional handlers should be more involved in it?
A: For me, junior handling is something very, very important, because they are our future. The handlers get older, and they need to retire, and we need young people who like the profession to continue with this job, but that requires a lot of education with the handler. They should learn from professional handlers, but I mean handlers that are really professionals. A junior handler can not learn just at the dog shows, they should also go to the kennels, the handler's house where they train and prepare the dogs, to learn how to show their virtues and hide their defects, and then do the same at the dog shows. So yes, I think that junior handling is very important, but I think they need to understand that we all start from the bottom, learning about the structure of the dog, the standards, and training, and at the end of all this it all comes down to how to show the dog in the ring. They should have more theoretical classes and seminars, they should learn that this is not an easy job and they should learn that this job needs to be paid for better than it is now, because right now I think handling is not well paid. Thanks to a few who don´t value their job and ask for lower prices. As I have been repeating during this interview, we need more respect, honesty and education in this world and this also applies to the future of the junior handlers.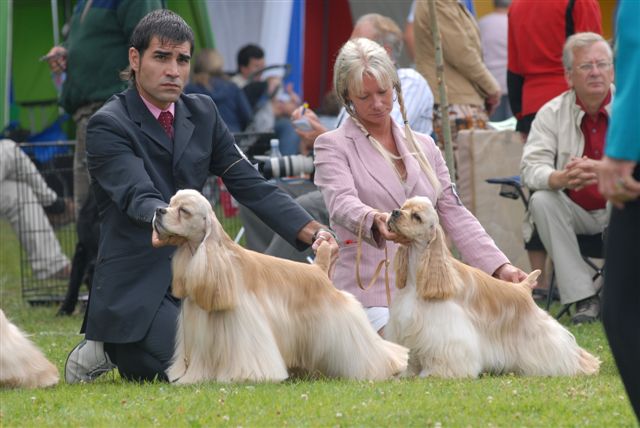 Q: If you could change something in the dog world, what would it be?
A: I would change so many things in the dog world. I would make everything so much more professional. I would love to make handling a profession, just like a breeder is a profession or a groomer has his profession, I think the handlers also have their profession, but they are not recognized as such. Nowadays we think that anyone can be a handler if they are able to show a dog, anyone can be a breeder by mating X and Y together, anyone can be a groomer. This is all a result of lack of interest, a lack of education and a lack of respect. People are not honest and think that it is fine. Many people think that the dogs win often because of the handler, but it is not like that. First, you must analyze the structure of the dog, the condition he is in, the career he has behind him, and then you could maybe understand all the hard work behind that dog. Maybe there is a lack of honesty and at some particular show in which dog has won because the judge knew the handler, of course this can happen sometimes, but it is not always the case. I think many of the new handlers think that that is the way to the top, and they are so wrong. So, I would change plenty of things about the judges, the handlers and the breeders, but that is out of my control.
Q: Thank you again for your time, Felix. You can send a message to all our readers around the world.
A: I want to thank the Best In Show magazine for offering me the chance to do this interview, which I hope has served me as a way of telling people about this horrible illness, that could affect any of us. It could be any of you, although now it was my turn to suffer it. Thank you for your interest in my life, in my career, which has been very long and successful, thank you to all those people who make me feel very lucky and happy with all the support they offer me during these difficult moments. Simply thank you, thank you, thank you to all. Be happy and receive my kindest Greetings.
——-
Felix asked us for help last year for the Vall de Hebron Foundation against ELA, now he needs all our help.
Our support, no matter how small, will help him. At this stage he is facing many expenses and needs all the help of the world. With € 1 you are already helping him.
You can make your donation here with a credit card, paypal or by entering your amount in Felix account number. All help will be good for him, he needs us, and the Dog Grooming World is with him.
Bank: Es0600815357310001148318 Bic: Bsabesbb
Paypal: info@felixduque.com
Many thanks!
https://www.facebook.com/donate/403128607184372/1986338644828438/