Estava Rain American Akitas
Interview with Mr. Friedrich Birkmar • Interviewed by Mihaela Kosic
Published in Best in Show Summer 2016
BIS: First of all thank you for taking the time to do this interview! Akitas is one of the most popular and attractive dog breeds lately. Can you please tell us about your beginnings in the breed and about your first Akita?
F.B.: It started 1999 with a beautiful male called "Timo". He was bred in Norway by great friends and was a true gentleman of a dog. He gave us so much joy and happiness and lived to be 13 years old.
BIS: When and why did you decide to breed Akita`s? How did you come up with your Kennel name? And what are your foundation dogs.
F.B.: I came from a family where we always had dogs so it was natural for me to start breeding them. My professional career has brought me to move to different countries all over the world and I went to school in Switzerland. When I finally settled down in Norway it was much easier to establish a good kennel for the dogs.
The Kennel Name is taken from the music in the Brazilian combat game called Capoeria that I have been training for many years.
After having very bad luck with my first 2 import bitches not producing well, I got the fabulous Redwitch Magic And Sparkle. I made her up to Int.CH and she has been a dream brood bitch.
BIS: How many dogs do you have? Do you prefer to keep your dogs with you, or place them in families and co-ownerships?
F.B.: We have about 12 dogs in total. The bitches always stay here in the kennel. Sometimes after their 2nd litter I find a nearby family that can provide them a loving home and singular attention and later decide if I choose to breed them another time. I always try to find a permanent family for the bitches once they are no longer used for showing or breeding. Our bitches usually don't have more then 3 litters in total. The show dogs are spread between different members of the Estava Rain team. Richard Hellman has 2 dogs in Italy, Anci Ahlberg has 2 in Sweden and Katja Rauhut has showed 2 of our dogs in Germany and East Europe. We have one homebred dog owned by us being campaigned in the USA and another one in China soon coming back home.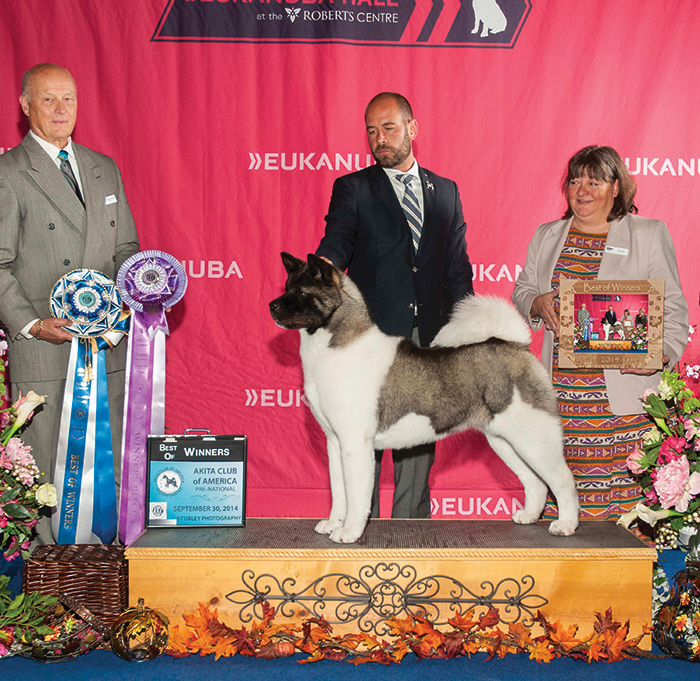 BIS: Do you work with other kennels? Are collaborations between kennels in your opinion necessary for the betterment of the breed?
F.B.: Yes. it´s important to exchange knowledge and experience. Margaret Hippolite of Kodo Akitas in New Zealand is a dear friend with lots of knowledge – just to mention one.
BIS: Do you have a role model in the breed? Who do you admire the most in the breed? Did you have a mentor at your beginnings?
F.B.: My late mother was my biggest mentor and inspiration. She was always following my work with the dogs in every detail.
In Akitas – the work of Mrs. BJ Andrews needs to be mentioned. She was a pioneer in the breed in the US, bred the dogs that would have the biggest influence for the breed and wrote important books to leave a legacy after her for generations to come.
I love talking to the early breeders in the US. They have a lot of knowledge and are very honest in their opinions. Would like to mention Dr. Sophia Kaluzniaki, Beverly Vics and Carol Foti. In Europe the Redwitch Kennel had an important impact on the breed. They produced some of the most important dogs in many pedigrees and we're very helpful in establishing my own lines.
BIS: What makes one a great breeder? What is the most important thing that a breeder should never ever forget or ignore? What makes the biggest difference between a great breeder and a "hobby" breeder?
F.B.: Consistency!! Keep focused on your breeding program. Stay true to your type and always keep in mind the breed standard!
To be a great breeder you need to make big sacrifices both financially and time. You need to be able to focus and work hard to produce top quality. One needs to travel, and see lots of dogs all over the world to have a reference point. Education is key!!
BIS: How many litters do you have per year? How long do you plan your breedings?
F.B.: Most our breedings are planned 1 or 2 years ahead. We have a very clear vision about what dogs could work together in the future. Of course it´s just wishful thinking as there is never a guarantee when breeding dogs…. But at least it´s important to have a plan. We breed for ourselfs, not just for the sake of breeding to sell puppies. We normally have from 1 or 2 litters per year and often keep 2 or 3 from each litter to continue our selection. Every generation brings us closer to our ideal of the Akita.
BIS: Do you prefer linebreeding, inbreeding or outcrossing?
F.B.: Linebreeding with bringing in outcrosses where needed. Of course outcrossing to typelike dogs that are proven on different bitches of different lines. We have had great results with outcrosses as we are even more happy when we breed back in the second generation.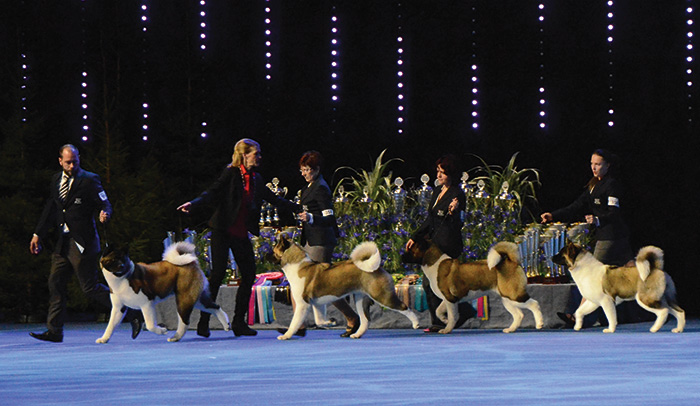 BIS: Do you remember your first Champion? Do you know how many Champions did you have so far? Who is your biggest winner (your own dogs, and your bred dogs)?
F.B.: We have champions on all continents of the world. So happy to have sold dogs to genuine breed enthusiasts that has taken such good care of the Estava Rain dogs. Because we have exported so many dogs we have lost count on champion titles. In one litter we had all individuals became champions in a total of 3 different continents.
Our top winning bitch would be CH Estava Rain Front Row. Winning Int. shows in 3 different countries and ended up nr.2 All Breeds in Norway and all time top winning bitch in northern Europe. To mention a male it would be "Curtis" Estava Rain Only Style Remains winning BOB at Crufts 2016, BOB & World Winner 2015 and he is also American Grand Champion!
BIS: What is your most memorable win?
F.B.: That's a hard question.. Winning the group at the World Dog Show in addition to 10 World Winner titles & inumerous European titles. Any of our amazing wins at the Akita Club of America National Specialties, Westminster, BOB at Crufts, and Eukanuba in Orlando. Having the all time top winning male and female in the Nordics.
BIS: How do dog shows reflect on the breed? Are they good or bad?
F.B.: It´s always a good thing to get the dogs out there to be shown. As a breeder it´s important to get your work evaluated. A top winning dog does not necessarily significate an excellent representative of the breed and of course a top winner doesn't guarantee a good producer.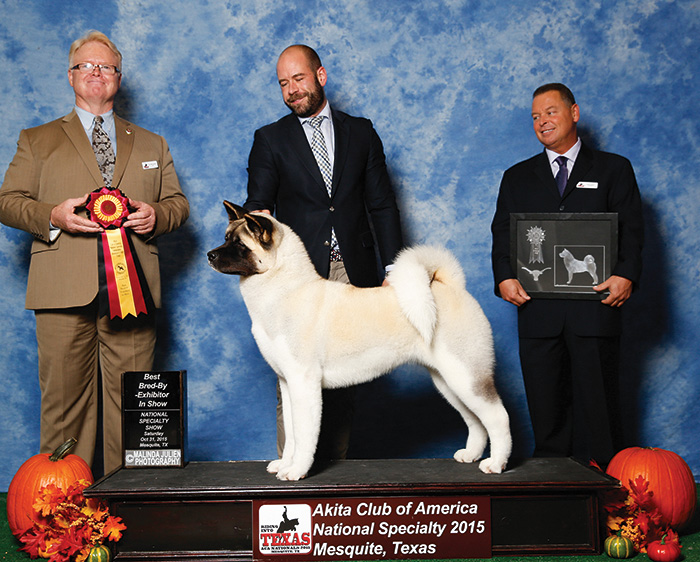 BIS: Do you think the breed changed and evolved in a good or bad way in the past years?
F.B.: Only to the better as far as I am concerned. Type, structure and soundness has generally improved. Size, substance, coats, temperaments and health issues certainly have made a noticeable improvement.
BIS: Do show trends change the breed and if so in what way?
F.B.: If you are true to the breed and the standard you don't breed dogs for any trends. I would never compromise on that. Colors may be considered a trend and a personal preference in our breed as almost all colors and patterns are accepted. A solid colored dog is more rare than 20 years ago as are the scarcely marked pintos which were quite popular until then. Most dogs now have lots of flashy white markings which are attractive. Only an experienced technical judge will appreciate the solid colored dogs if they are of good quality. I think we have some problems with the base colors which fall into less importance as long as the dogs have flashy white markings. We must remember that the standard calls for any color as long as it is rich and vivid.
Another trend is to breed overangulated Akitas. Judges and exhibitors tend to seek the overangulated stifle bend as opposed to the moderate angulation required by the standard. Of course I prefer a little too much than not enough but many Akitas should be considered exaggerately angulation which is not to standard.
BIS: Do you think we have enough Akita breed specialist judges judging at shows in Europa and World Wide?
F.B.: No. Many judges are too busy collecting breeds and many active and successful breeders don't take the time to become judges as they prefer to be showing. In many countries not only is it difficult to become a judge but you need to take off 2 or 3 years from exhibiting to complete your education at dog shows.
BIS: What qualities do you admire in breed specialist judges?
F.B.: That they really see the breed and educate themselves before they even think about judging them. Being able to find quality and strengths and not always looking for faults first!!
BIS: Do you think the Standard is a good one?
F.B.: Yes. The standard can not be misunderstood. It is clear in overall proportions and outline down to details in head, feet and tailset.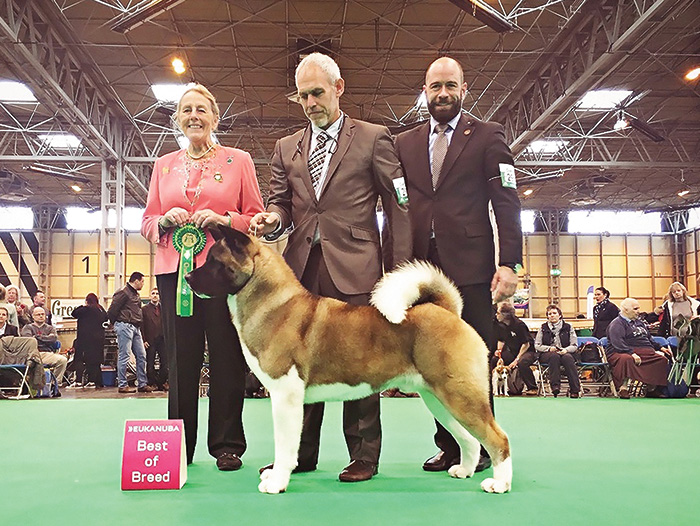 BIS: Can "all round" judges change the breed and the breed "trends" if they don`t understand the Standard correctly?
F.B.: No. The standard is clear and can´t be misunderstood. I think we overestimate the power of All rounders… they vary way too much in quality and there will always be a better judge coming after putting things back to standard.
BIS: What can be done to improve the judging?
F.B.: Education. As a FCI judge myself I can´t understand how a judge can walk into the ring not being educated about the breed he/she is judging. Judges should be invited for their knowledge and passion for their work.
BIS: What are your long-term goals in breeding?
F.B.: I´m a caretaker of the breed. My goal is to produce the best dogs to my ability.
BIS: What is the most important thing you would never compromise in your breeding program?
F.B.: Type, health or temperament!!
BIS: Do you feel that you have established a distinguishable line? Would you say you have a recognisable kennel type?
F.B.: I hear that from many people and it´s always a nice thing to hear. Our dogs are very sound and they do fit a frame. Then there will always be dogs that are different mainly because of size, coat or color. But In general our dogs have a standard that should be recognizable for an Estava Rain dog. In fact we have been very successful in the breeder's group competition in top European events!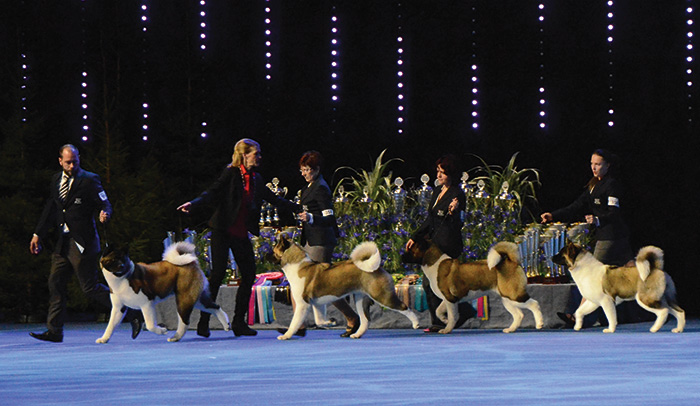 BIS: A huge part of Akita`s popularity is their temperament. In your own words how would you describe a perfect Akita temperament?
F.B.: "Heart of a lion". Brave and proud. Calm and intelligent.
BIS: Who would you say is a perfect Akita owner?
F.B.: Someone with experience with dogs in general. The Akita owner needs to be consistent and willing to work with their dog. It´s a big dog in need of excersise and periodic grooming to keep him in shape and to be competitive in the show ring. They have a strong willed temperament and need to be guided in adolescence, if not they will learn to take advantage of their owners.
BIS: Does the breed have certain problems or any genetic diseases? Can you tell us little bit about breed problems in your opinion?
F.B.: We have been lucky by doing the correct selection and screening in our breeding program and been able to produce healthy and good tempered dogs. Although bloats, elbow and skin problems is not rare in the breed.
BIS: Do you health test your dogs?
F.B.: Always!!
BIS: What do you think about the trend of breeding to "popular" Champion studs?
F.B.: Very bad for the genetic variety. Some of these dogs have major faults but are used because they might be the only one around in a specific area. These faults are very easy to recognize in generations to come.
BIS: How do you choose the studs you use? And how important is a pedigree in your breeding program?
F.B.: Pedigrees are extremely important. It shows a consistency both in type and health. When we choose a stud dog we need to see the dog and his siblings. Is he just a standout or does he come from a litter of equal quality? Some dogs that we have outcrossed with lately we have seen in the US already 10 years ago. We have followed that dogs offspring bred from many different bitches.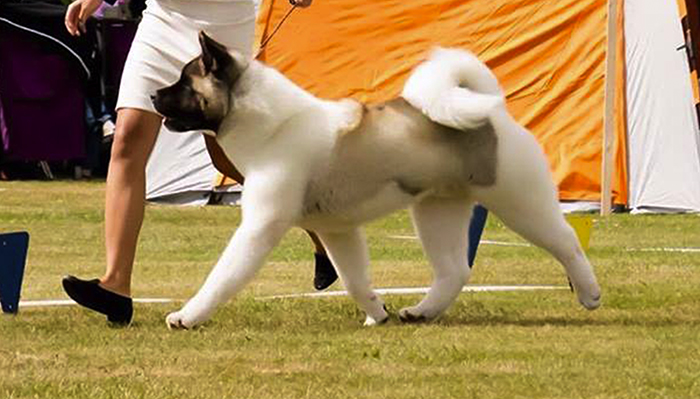 BIS: What in your opinion are the best producers and the most important dogs in your Kennel?
F.B.: CH Estava Rain Front Row "Sydney". – Not just top winning bitch all time – but also produced amazing offspring to different sires. CH Estava Rain Hold The News "Bronx". – First non US/UK bred Akita to become GBCH, top winning here in Scandinavia and a very consistent producer. He was nr. 1 Stud dog in the breed in the UK 2014 and has sired the current nr.1 Akita in the UK as well as our own Curtis and Chester (both World Winners).
BIS: Last but certainly not the least what advice would you give to new generations, first time owners, one day possible Akita breeders?
F.B.: Travel and educate yourself! Talk to experienced breeders and don't be afraid to ask questions. Not everything is written in books – the most valuable knowledge you get from talking to people and making your own opinion. Study the standard and make sure you understand the key points of outline, proportion, movements, head details, tailset etc..